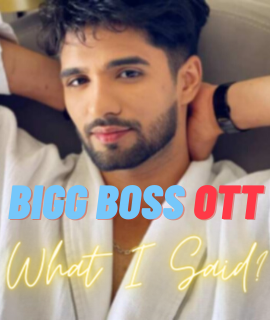 Zeeshan Khan (Bigg Boss OTT): What He Said Before Going in the House?
Occupation
Model and Actor
Hometown
Mumbai, Maharashtra, India
In Blog
7 Things Zeeshan Khan said before entering Bigg Boss OTT
Zeeshan Khan (Bigg Boss OTT)!!
The bathrobe guy, Zeeshan Khan is a popular Indian actor who has been the talk of the town for his Big Boss OTT debut. He is a social media star with a massive fan following. The actor is on cloud nine for his wishes turning into the reality of meeting Karan Johar and Salman Khan.
What Zeeshan Khan Said Before Entering Big Boss OTT Premiering on VOOT
Here are a few things that Zeeshan said before entering Bigg Boss OTT!
1. Lockdown Came with Breakdowns
Lockdown was traumatic for almost everyone. Sharing his experience, Zeeshan said
The lockdown has taught me a lot. A lot of people went through so much. I, too, went through a lot. However, like everything else that puts you down, you got to put yourself together. And, that is what I did. The lockdown was horrible for me. None of us were working. Financially, I took a hit. For us actors and entertainers, our social media is everything. (During the lockdown) I got my Instagram account hacked and deleted, because of my stupidity. I was very disappointed, but then I was like 'you can take my Instagram ID, you cannot take who I am. I am Zeeshan Khan'. I went ahead, created a new account and now I have three to four times the followers that I had before my previous account got deleted."

2. Downfall of Indian TV and film industry
Along with stardom and fame, an actor's life comes with its fair share of struggle. Talking about the same he said
I also saw a lot of good shows going off-air. That made me think, as an actor's life can be very unpredictable. You are at the mercy of someone hiring you. I wanted to do something of my own and then I started my YouTube channel. I think I am a good entertainer and turned the loss (of my social media account) into a win. I started entertaining people, my YouTube channel grew well."

3. Talked about the Infamous Bathrobe Incident
Weeks after creating a scene with his airport appearance in a bathrobe, and getting trolled, he said,
I have already done a white bathrobe, I have already done a panda suit. I have a lot of ideas, let me give you a hint, I have bathrobes. So, this season is going to be exciting, over the top."
Awesome Facts About SHAMITA SHETTY HERE >>> Facts About Shamita Shetty!

4. Trolls and Haters
After the bathrobe incident, the actor gained a lot of publicity but it came with a huge amount of trolls and haters. Sharing about the hatred, he said
There were a lot of people who threatened me, and they were like 'Tu dikh gaya Na, toh ye Kar denge aur wo kar denge. And I am someone who doesn't enjoy this sort of thing with all the threats, I hate it. I felt like telling them that this is my address, come here, let me know what you can do because I know for a fact that when you see me outside you're going to be one of those people [who] would be like oh, you are that guy, please can we take a selfie. So you don't have the guts to do anything, so just because you are in your safe zone, typing away behind your computer screen, you can't say such things."

5. Excited About 'No Restrictions' on Bigg Boss OTT
The actor is exceedingly enthusiastic about the show's format and the platform.
There are no restrictions, in television format, you have to cut this and cut that, but this time, you can go all out. There are no rules and no restrictions, so the craziness of the show is more. Even with my blogs and everything, I have to tone it down a little bit because YouTube has guidelines. But here, there are no guidelines and I can bring out the entirety of my craziness to the show," he exclaimed.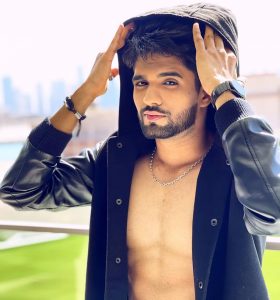 6. Hunted by Communal Hatred
The whole religion-based hatred has taken a front seat among the trolls. There was a set of trolls who criticized him based on religion,
Some people were like he is a Khan, he is a Muslim and that is why he's doing this. Send him back to Pakistan… and I was like what, why? I was born in Bombay, I am someone who has been raised here and I love my country. So why are you hating on me just because of my religion," questioned the actor, adding that people forget that everyone believes in God, only the names are different? "

No matter what we call him, we all believe in God. So whether you call him Allah or Ganeshji or Shivji of Brahmaji or whatever name you call him by, he's the one who has made all of us. Why is it so difficult for you to understand that?" he explained.
Interesting Facts About RIDHIMA PANDIT HERE >>> Facts About Ridhima Pandit!
7. Strategy is to Make the Audience Laugh
Big Boss is well-known for strategic moves and keeping the audience on the hook. Talking about the strategy for Bigg Boss OTT, he said,
I am going to be who I am," he said. He nonetheless intends to do things differently and figures himself as a school days backbencher, whose only purpose is to entertain the classroom, i.e. the audience. "When people think about Bigg Boss OTT and Bigg Boss Season 15, they're gonna be like we enjoyed that because it has Zeeshan Khan and that's the way I want it to be".
COMPLETE BIOGRAPHY OF ZEESHAN KHAN HERE >>> ZEESHAN KHAN BIOGRAPHY