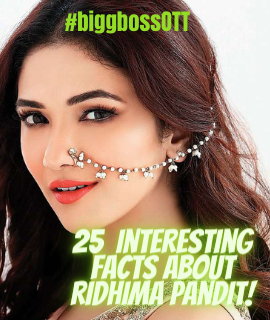 25 Facts about Ridhima Pandit (Bigg Boss OTT) Contestant: 2021 Insights
Hometown
Mumbai, Maharashtra, India
Occupation
Actress, Model, Television Host
Ridhima Pandit, who recently got into the most talked-about Indian television show – Bigg Boss OTT is all set to rock the show. Let's talk about how she made it to the show, her successful journey into the entertainment industry so far, and some interesting facts about her.
Something About Her First!
Ridhima Pandit is an Indian actress, Model, and Television host and is one of the most renowned faces currently in the Indian Television industry. With her lovely acting skills and elegant personality, she has made a special place for herself in the industry and the hearts of people.
The beautiful actress, who was born on 25 June 1990 in Mumbai, became a household favorite with her debut show Bahu Hamari Rajni Kant, which aired on Life OK in 2016. She played the main character of Rajni, a super humanoid, in the show and was immensely loved and appreciated by the people.

Recognition!
She also went on to win the Best Debut award for her performance in the show. Since then, Ridhima has been a part of many television and reality shows, such as Khatron Ke Khiladi 9 and Dance Champions, where she hosted the show. She has also made her entry on the OTT platform with series like Yo Ke Hua Bro and Hum – I'm because of us.
Ridhima Pandit has achieved a lot of success as a performer in just five years of her career, which speaks volumes about her talent as a performer. However, Ridhima is as lovely and intriguing off-screen as on-screen. She is a fun person and there are amazing things to know about her. Here are 25 less-known facts about her which are going to give you a glimpse of the person Ridhima Pandit and make you fall more in love with her.

Jumping into Some Crazy Facts About Ridhima Pandit!
1. Ridhima Pandit is highly educated – along with her stupendous acting skills, is highly educated too. She has a postgraduate degree in Sociology and Event Management.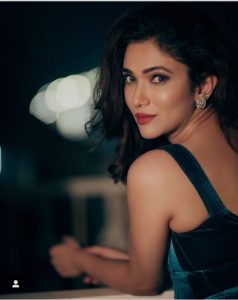 2. Ridhima loves singing – Like many of us, Ridhima also loves singing and it is one of her favorite hobbies. Well, with the melodious voice she has, it must be a treat to listen to her singing.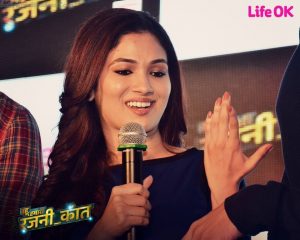 3. She is expressive and opinionated – Despite being a famous actress and always in the limelight, Ridhima does not shy away from expressing her feelings and opinions. Certainly, one of the most admirable things about her personality.
4. Ridhima was born to be an actress – Ridhima wanted to be an actress at an age as early as six. In one of the interviews, she did reveal that if it were not for acting, she would have been jobless. However, she was shy as a child to admit that she wanted to be an actress and it was her elder sister, Ragini Pandit, who first recognized her love for acting.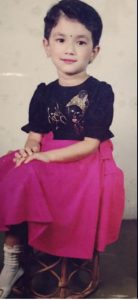 5. Ridhima has also done theatre – Before she made her way into modeling, advertisements, and eventually in the television industry, she did theatre for two years at Nadira Babbar's theatre workshop.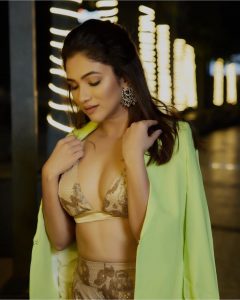 6. Her first celebrity crush is Salman Khan – Ridhima is no different than most of the girls in the country when it comes to her first celebrity crush, who is none other than Bollywood most wanted Munda, Salman Khan.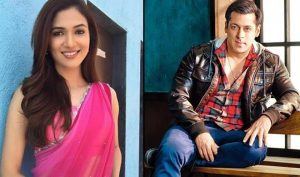 7. Ridhima Pandit is very choosy about her roles – Ridhima is very careful about picking up roles that she wishes to play. She does not wish to do any regressive roles and only wants to do roles that are progressive in nature.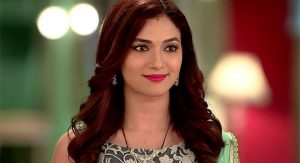 8. She always carries mosquito repellent in her bag – Yes. Ridhima is very aware of mosquito-borne diseases and is super attentive about putting up the mosquito repellent. She also wants to make more people aware of it.
A few more!
9. She loves watching her own shows – Although many actors refrain from watching their own work on screen, Radhika has got none of that. She loves watching her own performances and carries a power bank as well in her bag. Well, just in case.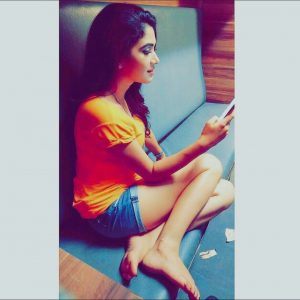 10. Ridhima avoids outside food as much as possible – Ridhima is absolutely sincere about her food habits. She eats homemade food mostly and even if she has to eat outside, she prefers having a salad or protein shakes, or soups. She credits her food habits to be one of the reasons behind her glowing skin.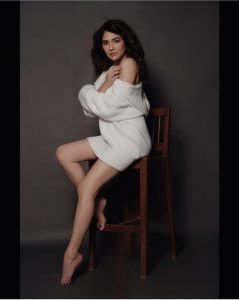 11. Ridhima's favorite Bollywood actress is Kajol – Well, who of us didn't want Anjali to be our best friend growing up?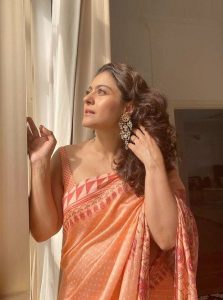 12. Ridhima loves Pizza – Wow. This is certainly one of the things that bring most of us on the same page with Ridhima. She loves Pizza, especially with cheese, and we could not be happier knowing this about her.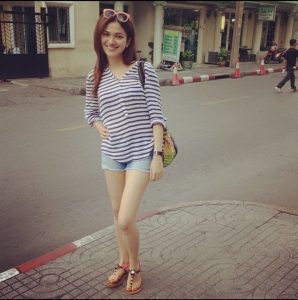 13. She hates Maths – Well, who does love Maths? We are totally with you Ridhima in this.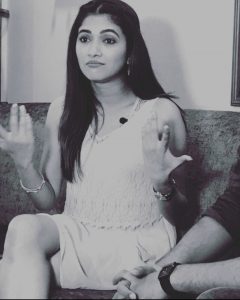 14. Ridhima is a total family person – She loves her family and calls her family to be her 'Pillar of strength'. Isn't that sweet?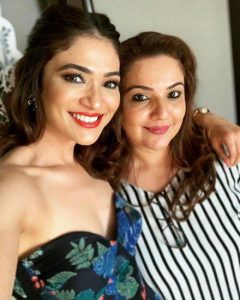 15. She doesn't like getting pranked – Ridhima does not at all like getting pranked because according to her, she will start crying if she gets pranked. Relatable, no?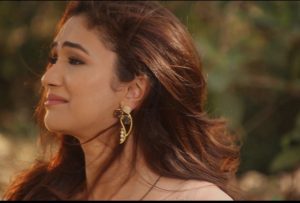 16. Ridhima Pandit is an avid reader – Yes. She loves reading and her favorite authors include Paolo Coelho and Gillian Flynn. Wish we could exchange our novels with her.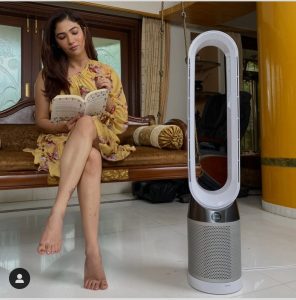 17. She loves watching rom-com – Ridhima's favorite genre, when it comes to movies, is a romantic comedy. Her favorite movies are Kal Ho Naa Ho, Hum Dil De Chuke Sanam, and The Notebook.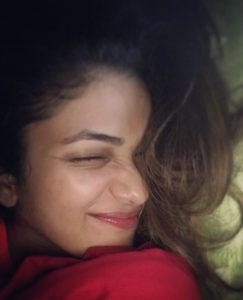 18. Ridhima wishes to work with Imtiaz Ali someday– To get an opportunity to work with Imtiaz Ali must certainly be there on the wish list of many performers and Ridhima is no different. We hope her wish comes true, soon.
Zeeshan Khan (Kumkum Bhagya)- Wiki, Bio, Height, Weight, Family, Relationships, Interesting Facts, Career, Biography, and More
19. She has a diverse family – Yes. Her family truly embodies one of the ideas of India which is 'Unity in Diversity' because her parents belong to two different backgrounds. Her father is Maharashtrian while her mother was Gujarati, who unfortunately passed away this year. We wish Ridhima all the strength.
20. Ridhima Pandit loves traveling during her holidays – Ridhima absolutely loves traveling and Dubai and San Francisco are her favorite holiday destinations.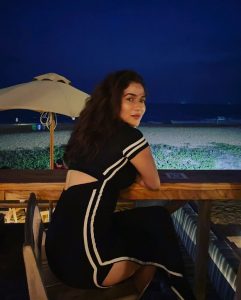 21. She is a dog person – Isn't it just lovely when someone is lovable towards animals?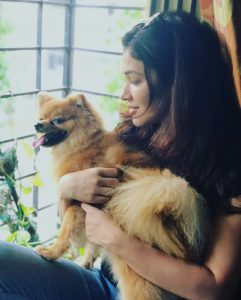 22. Ridhima is a fan of Desperate Housewives, the American comedy-drama and mystery television series.
23. Ridhima loves listening to Arijit Singh – As she loves singing, she loves listening to music too and Arijit Singh and Tochi Raina are among her favorite singers.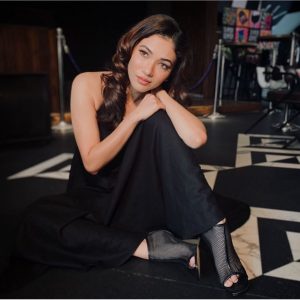 24. She is a sucker for her own space – She likes to have her own time and not be surrounded by people all the time. Her favorite trick to avoid unnecessary interactions is to put earplugs on and pretend to be listening to something. Sorry Ridhima, for putting this out.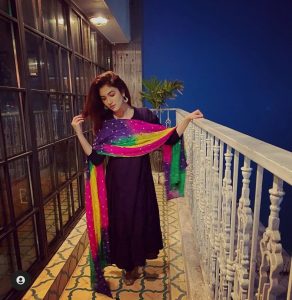 25. Ridhima Pandit has shared the screen with Katrina Kaif and Rahul Dravid – Yes. She shared a screen with Katrina Kaif in an ad for Veet, while she was seen with Rahul Dravid in an ad for Asian paints.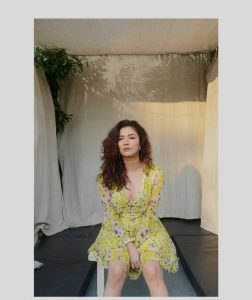 So, this is all from our side about the gorgeous and talented actress Ridhima Pandit. If you wish to tell us something more about her, then please share in the comments. We would absolutely love to hear more facts about Ridhima Pandit.
Hope you enjoyed reading. Please visit us for more such interesting details about our favorite celebrities.
Can Yaman Mania: Insights into the Exotic Fragrance Launched by CAN YAMAN