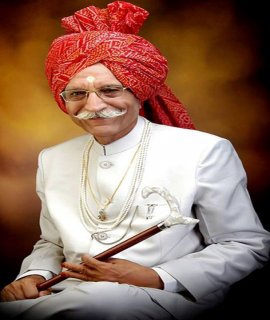 Mahashay Dharampal Gulati (MDH Uncle) Wiki, Age, Family, Wife, Biography, And More
Real Name
Mahashay Dharampal Gulati
Birthplace
Sialkot, Pakistan
Education
5th standard dropout
Mahashay Dharampal Gulati is a popular Indian businessman and is famous as the old man of MDH TV advertisement.
Biography
Mahashay was born on 27 March 1923 age 97 years in 2020 at Sialkot in Pakistan. He studied till 5th class in a school in Pakistan, and later, dropped out of the school.
Physical Statistics
Eye Colour: Brown
Hair Colour: White
Height: 5′ 10″ (approximately)
Parents and Siblings
He was born in a Punjabi Khatri family residing in Pakistan before the partition of India in 1947. He was born to Mahashay Chunni Lal Gulati and Mata Chanan. He has seven siblings; two brothers and five sisters, and his both brothers; Mahashay Satpal Gulati and Dharamveer Gulati were businessmen too.
Wife and Children
He got married at a very young age. When he was 18 years old, he got married to Lilawati. He has six daughters and had one son who died too early after the death of Mahashay's wife's death in 1992.
Career
His father used to own a spice shop in Pakistan, 'Mahashian Di Hatti (MDH).' He used to work with his father and sell Mehandi. After the partition of India in 1947, he migrated to India and used to run a Tanga aka horse carriage from Connaught Place to Karol Bagh. He had to sell his Tanga as he was not happy with his work, with that money he opened a small shop of spices in Karol Bagh in 1948. After a few years, in 1959, he set up his first spice factory in Kirti Nagar, Delhi. Since then his spices became very popular and is found in almost every Indian house. He is one of the richest businessmen in India.
Some Interesting Facts About Mahashay Dharampal Gulati
He has honoured with various awards like 'Indian of the Year' at the ABCI Annual Awards (2016), Excellence Award for Lifetime Achievement (2017), and Padma Shri Award (2019).
In 1954, he started India's first modern spice store, 'Roopak Stores' in Karol Bagh, Delhi.
He has founded a hospital, 'Mahashay Chuni Lal Charitable Trust' for poor people.
A magazine named 'Sandesh' is published by his company to promote Indian traditions.
He has also appeared in various TV commercials of MDH.
It is interesting to know that his photo as the logo appears only on the vegetarian products of MDH.