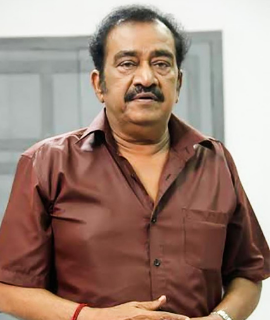 Pandu (Tamil Actor) Wiki, Bio, Death, Height, Weight, Family, Interesting Facts, Biography, Controversy, and More
Occupation
Tamil Actor and Comedian
Known For
Being a designer of the logo for 'Tamil Nadu Tourism' back in the 1960s
Death
6 May 2021 (Tested Positive for COVID-19)
Biography
Pandu was a Tamil actor, comedian, and graphic designer born in Komarapalayam, Tamil Nadu, on 19 February 1947, and his zodiac sign is Pisces. Pandu's hometown was Chennai, and he also took his last breath here. Pandu died on 6 May 2021 due to COVID-19.
Pandu went to the National Institute of Design in Ahmedabad, Gujarat, India. Pandu did post-graduation in Arts and Design. He also had a doctorate in Arts and Design from France. Pandu's last movie was India Nilai Maarum (2020).
Physical Statistics
Height- 5'8" (in feet inches), 177 cm (in centimeters), 1.77m (in meters)
Hair Color- Black
Eye Color – Black
Relationships/Family
Pandu was married and his wife was 'Kumudha' with sons, Prabhu Panju and Pintu Pandu, and Panju Pandu. Pandu has one sibling (brother), Idichapuli Selvaraj, a veteran Tamil comedy actor and acted in more than five hundred movies.
Career
After completing his schooling, Pandu was hesitant to pursue Diploma in Arts. The reason was he had to spend five years of duration completing the Diploma. After his teacher's assistance and insistence, Pandu went for the entrance exam of Arts & Design. He cleared the exam with first class, after which he enrolled himself for the famous 'Arts ' Design Institute' at Baroda, Gujarat, India. Pandu completed his post-graduation from the National Institute of Design in Ahmedabad, Gujarat, India. He had a Government of India scholarship while he was doing his post-graduation.
After that, Pandu pursued Doctorate Degree in Arts ' Design from France, where he had a scholarship from the Government of India again.
Pandu was famous for designing the logo of 'Tamil Nadu Tourism' in the 1960s, for which he even received the cash prize of Rs. 20000. Pandu was a passionate actor and painter. In the song "Enge Aval, Endre Manam," the painting of Jayalalithaa was drawn by him. Also, Pandu was more inclined towards Design, Paintings, and Arts than cinema. So, his career as a painter didn't stop there. He even designed the logos of Sun TV, Shankara Nethralaya, and a few other reputed organizations. It was a total of 250 firms for which Pandu designed some amazing logos.
Pandu designed the two leaves party logo with the complete supervision of M. G. Ramachandran, who is an AIADMK founder leader. The AIADMK flag was designed within one hour by Pandu, and it was around 10:00 pm.
The acting career of Pandu began with 'Karaiyellam Shenbagapoo' on 14 August 1981. He joined his brother, Idichapuli Selvaraj, for this movie. Pandu played a supporting role in Agathiyan's Kadhal Kottai, portraying Ramasamy. His performance and acting were highly praised, giving a kickstart to his acting career back then. Pandu appeared in Vellachi, released on 1 March 2013, where his son Pintu Pandu was seen in the leading role.
Apart from designing, arts, and cinema, Pandu had a family business of brass and aluminum, which he started in 1975. It was a family business that his son, Prabhu Panju, also manages. Pandu even owned a company named, 'Capital Letters,' for which he used to design name boards for homes and offices of the Tamil film fraternity. Pandu held an art exhibition in 2014, where his other son, Panju Pandu, assisted him. This exhibition displayed all paintings made by himself at several International Exhibitions nationwide.
Interesting Facts About Pandu
1. Pandu was a good Tamil actor and comedian who worked in more than 500 films.
2. He also owned a brass and aluminum business, which he started in 1975.
3. Pandu made his debut with his brother, Idichapuli Selvaraj, in the movie ' Karaiyellam Shenbagapoo' on 14 August 1981.
4. Pandu made his debut on TV in 2007 with the show name Dhinam Dhinam Deepavali.
5. He used to make paintings using his fingertips, and he enjoyed painting too much. Paintings made him happy.
Latest Update
Pandu was tested positive for COVID-19 and died on 6 May 2021. His wife, Kumudha, has also tested positive for COVID-19 (in 2021), and currently, she is in critical condition in ICU.