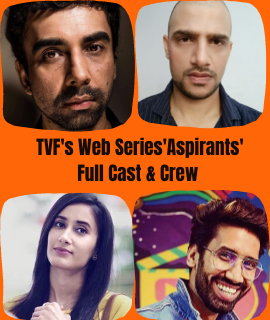 TVF Web Series Aspirants Full Cast and Crew Released in 2021
In Blog?
Full Cast and Crew List of Aspirants (Web Series)
Series Directed By
Apoorv Singh Karki
TVF's 'Aspirants' is a story of three friends – Guri, Abhilash, and Shwetketu (SK). The story shows two aspects of their lives, the past and the present, where their past captures the struggle and struggle behind making UPSC CSE aspirants. The story is based in 'Old Rajinder Nagar, Delhi, India.' The present part of the story shows the aftermath of the same. In short, it is a journey of UPSC Aspirants and even importantly their friendship.
TVF Web Series Aspirants Full Cast and Crew (Released in 2021)
1. Naveen Kasturia – Abhilash Sharma
2. Shivankit Singh Parihar – Guri
3. Abhilash Thapliyal – SK
4. Sunny Hinduja – Sandeep
5. Namita Dubey – Dhairya