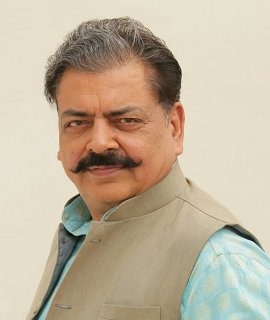 Karmveer Choudhary – Wiki, Height, Age, Family, Wife, Controversies, Biography & More
Real Name
Karmveer Choudhary
Hometown
Jhunjhunu, Rajasthan
Occupation
Actor, Motivational Speaker
Biography
Karmveer Choudhary, also known as Karamveer Chaudhary, is an Indian actor and a motivational speaker. He was born in Jhunjhunu, Rajasthan, on 24 July 1963. He has got a degree in M. Com from Dayanand College, Ajmer. The actor is best known for his work in Indian television and Hindi movies.
Physical Statistics
Karmveer Choudhary's height and weight is unknown.
Parents, Wife, and Children
Karmveer Choudhary belongs to a Hindu family. His father's name is Bhagwan Singh, and his mother's name is Laxmi Devi. Karmveer Choudhary got married to his wife 'Bhawna Choudhary' in 1987. The couple has two children, a daughter 'Ritu Choudhary' and a son 'Ankit Choudhary.' Ritu Choudhary (daughter) is married.
Career – TV and Bollywood
Karmveer Choudhary began his career with the 'Rajasthani Cinema,' and has done more than 20 films as a villain. He was awarded for 'Best Villain' in 2014 at the Jaipur Film Festival. He was a successful businessman in Rajasthan and was into politics as well. He shifted base to Mumbai about which he revealed in an interview. Karmveer Choudhary said,
I had a successful business till the time I lost all my money in the election, which I contested. I lost my money and realized I need to find my base again. At the age of 45, I shifted my base to Mumbai; before that, I have worked in 24 Rajasthani films, and also I have received an award for the best villain category. But when I came to Mumbai, no one was interested about my Rajasthani films. So I started from scratch in Mumbai and started hunting for TV shows. At the same point of time, my son and my daughter were studying engineering and medical, respectively, so it was more pressure on me. My wife asked me to come back to my place as she used to feel bad why I am struggling so much. But I have never lost hope and worked hard. I also started living in paying guest accommodation. In Udaipur, I used to have my own bungalow, the car so for me, it was a big contrast. But I sailed through, and today I have got back my wealth in Rajasthan, and also I have a proper set up in Mumbai. I want to become an inspirational story for many people who are depressed, and they don't want to do anything. I want to tell them nothing is impossible."
After tasting defeat in 2003 polls as a Samajwadi Party candidate from Mavli constituency in Udaipur, he shifted base to Mumbai. Since no one in Mumbai was interested in his 'Rajasthani movies' experience, he had to start from scratch. He hunted for roles in TV shows and
Karmveer Choudhary appeared in TV commercials in 2009 for 'Kurkure.' He also appeared in the movie 'Mere Brother Ki Dulhan' starring Katrina Kaif, Imran Khan, Ali Zafar, and Tara D'Souza as leads in 2011. In 2013, he did a Symphony cooler advertisement, 'Pepsi' ad in 2015. In 2015, he appeared in the role of the main villain in 'Gauraiya.' He did an 'IDFC Bank' advertisement in 2016. Karmveer Choudhary played a strong character role as 'Pandit Ji' in 'Waarrior Savitri' in 2016. In 2016, he did a TV show named 'Kuch Rang Pyar Ke Aise Bhi' as the main villain named 'Khatri.' The television show aired on Sony TV (India) during the year 2016-2017.
After that, he played the role of 'Hemraj' in the TV show 'Kya Qusoor Hai Amala Ka?' that aired on Star Plus in 2017. He came into limelight after doing the movie 'Sultan' in 2016. Karmveer Choudhary acted as a government sports office in the film Sultan. Besides, he has also appeared in the film 'Dangal' as Aamir Khan's father. During 2016-18, he did another television show titled 'Badho Bahu,' where he appeared in a character role 'Kailash Singh Ahlawat' (Lucky's Tau Ji).
In an interview, when he was asked about who is his favorite co-actor in the tv show, 'Badho Bahu,' he said,
My favourite co-actor is Mridul Kumar. He is playing Shankar in Badho Bahu. He is a very down-to-earth person."
He even shared his experience in the show Badho Bahu. Karmveer says,
I have a very good experience in the show, and it has been a pleasure working with the production house. The real hero of our show is the story. Obesity is something which almost every Indian family has, and we all have faced this problem. And our protagonist Badho is someone who has taken this problem as a challenge. 75% of our village population can relate to this, especially people from North India they are glued to the show. I would like to mention about one person from the production house Ishtiyak Ahmed who has been a great help and support in the show."
Karmveer Choudhary worked in 'Bhool Bhulaiyaa 2' as Mukhya in 2020.
Interesting Facts about Karmveer Choudhary
Karmveer Choudhary has a degree in M. Com
He lost all his money in an election in Rajasthan (2003), after which he shifted his base to Mumbai
Before working in Hindi movies and Indian TV shows, he worked in Rajasthani movies
Karmveer is a motivational speaker
He loves to be recognized. In one of his interviews, he said,
I had gone for a shoot in Himachal in a place called Dharamshala. I had boarded a small fight, and the air-hostess came up to me and said that she recognizes me as Tau Ji of Badho Bahu, and I was shocked. She asked me for a selfie, and I was really happy. I told her that we will take the selfie when the plane lands. After landing, she called all the crew and staff of the plane, and they all took a selfie with me. I cannot express the happiness I felt," he says.
He appeared in a small role in the movie Dear Zindagi.'