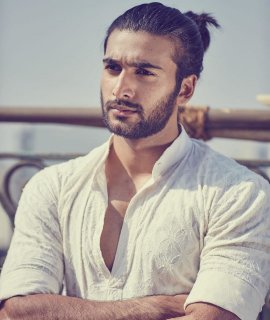 Meezaan Jafri (Meezaan Jaffrey) (Mizaan Jafri)– Wiki, Height, Age, Family, Girlfriend, Controversies, Biography & More
Other Names
Mieezan Jaafri, Meezaan Jaffrey, Mizaan Jaafrey
Biography
Meezaan Jafri (Meezaan Jaffrey) (Mizaan Jafri) is born in 1989 in Mumbai. He did his schooling from Ecole Mondiale World School, Mumbai. He has graduated in business and attended the School of Visual Arts in New York for pursuing filmmaking. Meezaan Jafri loves listening to music and dancing. Mizaan Jafri is all set for his new release, Hungama 2 (2021) directed by Priyadarshan along with actors like Shilpa Shetty and Paresh Rawal.
Physical Statistics
Weight – 75 kg (approximately)
Height – 6' (in inches), 183 cm (in centimeters), and 1.83 m (in meters)
Body Measurements – Chest (40") and Waist (31")
Hair Color – Black
Eye Color -Dark Brown
Parents/Siblings
Meezaan Jafri is a son of Indian actor, voice actor, comedian, and dancer Syed Javed Ahmed Jaffrey, aka Jaaved Jaaferi. His mother is 'Habiba Jaffery.' Meezaan Jafri's grandparents are the veteran actor and comedian 'Jagdeep' and 'Begam Jaffry.' Meezaan Jafri has two siblings, including a younger brother, 'Abbas Jaffery,' and a younger sister, 'Alaviaa Jaffery.' Actor, choregrapher, and director, 'Naved Jaffery' is Meezaan Jafri's parental uncle.
Girlfriend/Relationships
Meezaan Jafri's rumored girlfriend is Navya Naveli Nanda, who is a renowned Indian actor, 'Amitabh Bachchan's' maternal granddaughter. Meezaan Jafri is unmarried (in 2021).
Controversy
No major controversies!
Career
Meezaan Jafri appeared is his debut movie 'Malaal' in the year 2019 opposite actress Sharmin Segal.
Interesting Facts About Meezaan Jaffrey, Mizan Jafri, Meezaan Jafri
1. Meezaan Jafri started his career as an assistant director for the Bollywood movie, 'Bajirao Mastani' directed by Sanjay Leela Bhansali.
2. He learned dancing from Jaaved Jaaferi (his father), who is an amazing dancer himself.
3. Meezaan never intended to act in movies or work as an assistant director. He always wanted to make his career in sports or music.
4. Meezaan Jafri's 'Malaal' co-actor, 'Sharmin Segal', is his classmate, who assisted for Bollywood movie, 'Mary Kom' in 2014. In an interview about Sharmin and Sanjay Leela Bhansali, he said,
Sharmin was heading the costume department for Bajirao Mastani, and one day she said, 'Ranveer (Singh) is not here to try his costume,' and she wanted someone to try it, and so I volunteered. I knew I would meet Bhansali, sir, so I was nervous. He didn't know I was Javed's son and he randomly told me 'Meezaan, you should become an actor,' and I didn't know what to say. I was taken aback, as that was so random! I was overwhelmed. At the same time, he told me that he wants to launch me, and after that, I became more serious about it. If someone like SLB is giving you this opportunity, you have to grab it."
5. He body-doubled for 'Ranveer Singh' in the Bollywood flick 'Padmaavat.'
6. Meezaan Jafri is trained in martial arts and theatre.
7. He is close to his mother Habiba Jaffery.
8. Meezaan Jafri believes his father Jaaved Jaaferi is strict. In an interview upon asking about his family he said,
With guys, it has always been that they are closer to their mothers. I was closer to my mother, and she is very supportive, but with my dad, it's always been about behavior and discipline; we were very scared of him. There is a thin line between fear and respect, and whenever he used to come home, we used to keep quiet. It was like that. He is a very strict father."
9. Meezaan Jaffrey was just 7 years old when Boogie Woogie began.
10. Mizan Jafri loves animals, especially dogs.
Latest Update About Meezaan Jaffrey, Mizan Jafri, Meezaan Jafri
He will be seen in Bollywood movie starring Shilpa Shetty and Paresh Rawal, Hunagama 2 (2021).
Related Read:
Raj Kundra (Shilpa Shetty's Husband)- Wiki, Bio, Arrest, Controversy, First Wife, Controversy, Height, Weight, Family, Relationships, Interesting Facts, Career, Biography, and More
13 Exclusive Facts About Meezaan Jaffrey We Bet You Didn't Know!