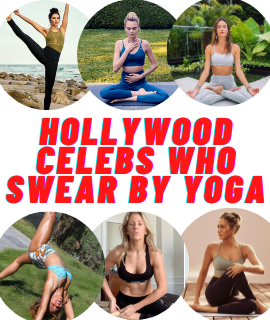 Hollywood Celebrities Who SWEAR by YOGA (BTW, Happy International Day of Yoga)
Event
International Day of Yoga
Date
Monday, 21 June, 2021
Started In
2015, following its inception in the United Nations General Assembly in 2014
Yoga Originated In
Yoga is a physical, mental and spiritual practice which originated in India
Hollywood Celebrities Who SWEAR by YOGA :Happy International Day of Yoga to you all!
Hollywood Celebrities Who SWEAR by YOGA: We hope you are practicing some too…
Today we are going to see some hottest celebrities around, who got amazing bodies because of Yoga. (And, they have got some sizzling bendy pics to prove that).
Celebs, just like us, need to stay fit, and to perform those stunts in the flicks, they have to be on their toes about maintaining a good body with enough flexibility.
"YOGA is improving our lives, and theirs too."
The idea of an International Day of Yoga was first proposed by the current Prime Minister of India, Narendra Modi, during his speech at the United Nations General Assembly (UNGA), on 27 September 2014. He stated:
Yoga is an invaluable gift of India's ancient tradition. It embodies unity of mind and body; thought and action; restraint and fulfillment; harmony between man and nature; a holistic approach to health and well-being. It is not about exercise but to discover the sense of oneness with yourself, the world and the nature. By changing our lifestyle and creating consciousness, it can help in well being. Let us work towards adopting an International Yoga Day.

— Narendra Modi, UN General Assembly
Let's see which celebrities truly swear by Yoga!!!
1. Vanessa Hudgens
2. Troian Bellisario
3. Sarah Hyland
4. Robert Downey Jr
5. Miley Cyrus
6. Lily Aldridge
7. lia Michelle
8. Lady Gaga
9. Kate Hudson
10. Justin Timberlake
11. Jessica Alba
12. Jennifer Aniston
13. Jenna Dewan
14. Hilaria Baldwin
15. Ellie Goulding
16. Cara Delevingne
17. Beyonce
18. Alessandra Ambrosio
Hollywood Celebrities Who SWEAR by YOGA – yes, they really do! These celebs prove it well.