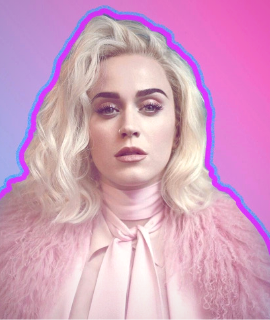 Katy Perry Tattoos with Meaning (Pictures Included)
Full Name
Katheryn Elizabeth Hudson
Popularly Known As
Katy Perry
Occupation
American singer, songwriter, and television judge
In Blog
Katy Perry's Tattoos with Meaning and Pictures
Katy Perry Tattoos with Meaning and Pictures
Katy Perry Tattoos with Meaning (Pictures Included) – Katy Perry aka Katheryn Elizabeth Hudson was born on 25 october 1984 popularly known as Katy Perry. She is an American singer, songwriter, and television judge, who used to sing in Church during her childhood and pursued a career in gospel music as a teenager. Katy's debut song was released under the album 'Katy Hudson,' which was released on 6 March 2001 by Red Hill Records.
Katy Perry has different tattoos on her body with different meanings like many other Hollywood celebrities and today we are going to read which tattoo means what.
Here are total tattoos Katy Perry has on her body:
1. Strawberry on Her Ankle
Katy Perry tattoos a smiling strawberry on her left ankle on the inside in July 2009. Katy tweeted before tattooing strawberry on her ankle:
Thinking about getting my second tattoo tonight! I wanna get a cartoon-ish strawberry to celebrate this amazeballs past 15 months."
She also posted a picture of her freshly inked tattoo with a caption:
My new little friend… what shall be her name?"
Meaning – Katy Perry got this tattoo on her left ankle to commemorate the success of her albums titled, One Of The Boys. She used strawberries as a prop on stage through her world tour, 'Hello Katy' and appeared in the same outfits and accessories.
Katy Perry said in an interview,
This past year and a half has been insane. I'm happy I've survived it. I really feel like this record really super-ceded my expectations. It's been amazing. I didn't think I would be all around the world in one year…I've just had so much success with this record beyond what I planned. You're never really ready for this type of thing, and getting a tattoo would kind of be like to remember the first time."
2. Sanskrit, Writing on her Bicep
Katy Perry got this tattoo in June 2010 with her then-fiance 'Russel Brand' and they both got similar tattoos. Katy did this tattoo on the inside of her right biceps.
Meaning
The tattoo is inked in Sanskrit language, which says 'अनुगच्छतु प्रवाहं' that means 'Go with the Flow.' Sanskrit is an ancient Indian language. Katy Perry and her then-fiance had a special significance of India in their lives, as Russel Brand proposed to Katy Perry in Jaipur, India in December 2009. The couple got married in India in October 2010 with a traditional Hindu ceremony. However, this marriage didn't last for long. They ended up divorcing after just over a year of marriage in January 2012.
3. Flower, Lotus on Her Wrist
Katy Perry got a tattoo of flower lotus inked on her right wrist in january 2012.
Meaning – Since Katy hasn't revealed why she got the tattoo inked on her wrist. However, it was around the time when she divorced Russel Brand, which may be a representation of her newfound clarity after she divorced her ex-husband, Russel. Besides, Lotus is a symbol of purity, beauty, and detachment, which aptly suits the situation when she got it tattooed on her wrist.
4. Candy on Her Ankle
Katy Perry got her another tattoo inked in November 2011, which was a smiling cartoon peppermint candy on the inside of her right ankle.
Meaning – This cartoon peppermint candy represented Katy's candy-themed 'Teenage Dream' album cycle and California Dreams Tour. The best part is that 50 members of Katy's tour team also got the tattoo done to support the tour.
5. Cherry Blossom, Flower on Her Ankle
Katy Perry got cherry blossom inked on the outside of her right ankle. She got this tattoo in November 2013.
Meaning – Cherry Blossoms is a very famous subject in traditional Japanese tattoo art, which represents the transience of life. Katy Perry got this tattoo inked on her right ankle along with her ex-boyfriend, John Mayer, who got the same tattoo inked on his right wrist.
6. Cat, Hello Kitty on Her Finger
Singer, Katy has got a 'Hello Kitty's head' tattoo inked on the side of her right middle finger. Katy got this tattoo inked on 30 October 2014, which is also the first day of Hello Kitty Con, which celebrates the 40th anniversary of the character.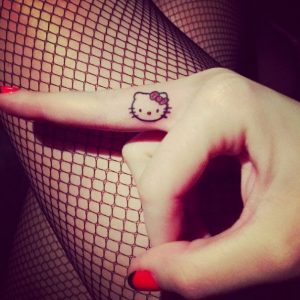 Meaning – This tattoo represents Katy Perry's birthday and even that of the cartoon cat.
7. Roman Numeral on Her Finger
Katy Perry got a tattoo of Roman numeral XLIX, which is number 49.
Meaning – Katy got this tattoo inked on her finger right after she performed at Superbowl 49, which took place on 1 February 2015.
8. Prism on Her Ankle
Katy Perry has a tattoo of a prism on her ankle, which she got inked in March 2015. This prism tattoo is cute with big eyelashes, and is a rainbow-colored triangular prism. This tattoo of Katy Perry was created by tattoo artist Keith "Bang Bang" McCurdy.
Katy Perry said:
I always bring Bang Bang in for my most special tattoos—the ones my touring team and I get at the end of a tour to commemorate another successful journey together. Each time, he's created the definitive symbol of that era of my life."
Meaning –The tattoo represents the successful completion of the Prism album cycle, which she got inked in 2015 even before the tour was over.
9. Eye on Her Wrist
Perry flew Los-Angeles-based tattoo artist Dr. Woo to get this tattoo on her wrist along with many of her crew members. The tattoo is designed like a pupil of the eye that has a ring around and looks like a planet with white parts of the eye designed with architectural curved lines through them. This tattoo of Katy Perry looks mostly like a satellite or a spaceship, reinforced by a twinkling star above it with a petite teardrop in the corner.
Meaning – Katy Perry picked eye for the tattoo as eyes have been the most prominent symbol of her Witness era. The cover of the album featured Katy with an eye in her mouth. Eye pattern was constantly used for her stage backdrops and outfits, which is why she was inspired by the stage art of the tour. Katy Perry performed the song 'Thinking of You' each night while flying through the air on the top of a planet, which became her inspiration for this tattoo.
10. Jesus on Her Wrist
Perry's one of the oldest tattoos is of 'Jesus' which is inked on her left wrist. She got this tattoo when she was 18 years old. Katy belongs to a religious family and she was raised listening to only gospel music, which even became her inspiration for her own gospel album under her real name, 'Katy Hudson' in 2001.
Meaning – Perry got his tattoo so as to constantly remind her of her religious upbringing. About this tattoo, Katy said:
I knew I wanted this on me because no matter how much changes around me or how much I change, there's not really an eraser for this."
She says:
It stares right back at me. It's like 'remember, you came from this, and you can always go back to it.'"