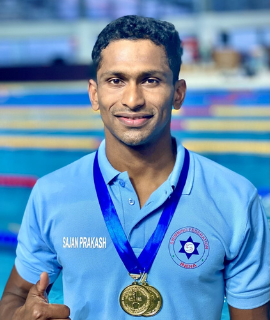 Sajan Prakash- Wiki, Bio, Height, Weight, Family, Relationships, Interesting Facts, Career, Biography, and More
Hometown
Idukki, Kerala, India
DOB
14 September 1993 (27 years)
Occupation
Indian Swimmer
Biography
Sajan Prakash is an Indian swimmer, who specializes in butterfly, freestyle, and medley events. His name is listed amongst the best swimmers from India, who holds a series of records in his name. Sajan Prakash belongs to the Idukki district of Kerala, India, and was raised in Neyveli, Cuddalore, Tamil Nadu, India. Sajan Prakash has done his schooling at St. Paul's Matriculation Higher Secondary School, Jawahar Higher Secondary School, Neyveli, Tamil Nadu. He got his graduate degree in Computer applications from Annamalai University, Chidambaram. Also, he is pursuing his Masters in sports science from the International Society of Schema Therapy through online classes. Sajan Prakash is also appointed as an Officer Commanding in Kerala Police. His zodiac sign is Virgo.
Physical Statistics
Height – 5'10" (in feet inches), 178 cm (in centimeters), 1.78 m (in meters)
Weight – 70 Kg (in kilogram), 154 lbs (in pounds)
Eye Color – Black
Hair Color – Black
Parents/Siblings
Sajan Prakash was born into a Hindu family and there is no information about his father. His mother's name is V.J. Shantymol, who is a former athlete and has represented India in various National and International events.
Girlfriend/Wife
Sajan Prakash has never shared any information about his relationships. However, Sajan Prakash is single as of now (in 2021).
Career (Swimming)
Sajan Prakash was always inclined towards sports, as he used to see his mother representing India in various National and International events. Initially, he was fascinated by field and track sports, including badminton and running. However, his issue of the flat foot didn't allow him to do so. Then, he had to change his interest from track and field events and focus on swimming instead. He started learning swimming after figuring out his foot problem and got training at the Neyveli Lignite City Swimming Club, Neyveli, Tamil Nadu. Saju Sebastien was mentoring him at that time.
Right after his swimming training was going fine, the authorities at Club showed no interest in training swimming athletes. He was then suggested by his coach to leave the club and get into another one, Basavanagudi Aquatic Centre, Bangalore. Sajan Prakash was getting trained under his current coach, Pradeep Kumar. Since he learned a lot from his coach, Sajan never stopped praising how hard Pradeep has worked on him to make him achieve what he is today. Sajan Prakash believes that Pradeep Kumar is his source of inspiration, and has always been during his tough times. He once said in an interview that it was Pradeep (his coach) who pushed him to focus on his goal, even when he wanted to stop or take a break from swimming.
Sajan Prakash, initially, was into freestyle swimming techniques, however, Pradeep Kumar always suggested him to learn more and get acquainted with other styles, including the butterfly technique. Prakash made his very first National record at the 35th Indian National Games, where he won 6 gold medals and 3 silver medals. Sajan believes that this event was the major turning point in his life, which helped his career fly like never before.
More About His Swimming Career
Sajan Prakash after his first record was all set to experience some more highs in his swimming career. In 2015, an international federation, FINA, which is even recognized by the International Olympic Committee and is highly responsible for regulating the international competitions in water sports partnership got in touch with the Federation of India. They approached the Swimming Federation of India with the purpose to enroll some swimmers from India to train them with 21 Olympians nationwide. All of these were aspiring Olympians who were preparing for Rio Games 2016. The Swimming Federation of India chose Sajan Prakash for this program. Once again, Sajan proved his skills and made it for the event. He didn't win any medal at the event for India, though.
In his swimming career, Sajan Prakash is a proud holder of 10 National, 3 South Asian, and 1 Asian record to his name. After appearing for the Rio Games 2016, Sajan appeared in a short documentary flick, 'Lane O' in 2017. In this movie, he had to play his own character, which was exactly about all the problems and hardships that swimmers face while living in a developing country.
That's not all. Sajan Prakash was waiting to make another record in his name. He became the first-ever Indian swimmer, who earned FINA 'A' Olympic qualification time, after clocking an Indian National record time of 1:56:38 in the 200 m butterfly event in Rome at 2021 Sette Colli Trophy. He successfully qualified for the 200 m butterfly event at the 2020 Tokyo Olympics. Sajan Prakash is the proud holder of 11 national swimming records in the butterfly, medley, relay, and freestyle categories. He is training with a Dubai-based academy, Aqua Sports Academy (ANSA).

Interesting Facts About Sajan Prakash
1. Sajan Prakash is an Indian swimmer, who has got his training in different styles of swimming, including freestyle and butterfly.
2. His favorite food is Dosa (for a reason that he belongs to South India) and Sushi.
3. Sajan loves swimming now, but he wanted to be in track and field sports like running and badminton. He also loves tennis.
4. He is an avid lover of movies and watches them whenever he gets time.
5. Sajan Prakash is a non-vegetarian.
6. Prakash Sajan always needs to be in shape, as his profession demands it. Also, he performs vigorous activities to keep himself fit.
7. Sajan loves spending time with his friends.