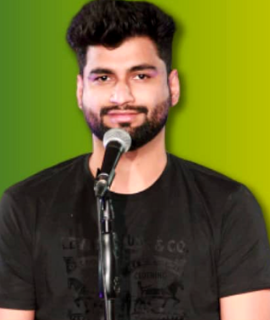 Harsh Gujral (Sasta Vicky Kaushal) – Wiki, Bio, Height, Weight, Family, Relationships, Interesting Facts, Career, Biography, YouTube, Acting, Girlfriend, and More
Full Name
Harshdeep Gujral
DOB
1993 (28 years in 2021)
Nickname
Haru, Hariya, Harshit, Harshu
Hometown
Kanpur, Uttar Pradesh
Occupation
Stand Up Comedian
Popularly Known As
Sasta Vicky Kaushal
Biography
Harsh Gujral is a standup comedian born in 1993 and brought up in Kanpur, Uttar Pradesh. Harsh Gujral has completed his studies in Engineering. He was always keen on comedy since he was in school. Harsh moved to Delhi around fifteen years ago. He currently performs stage shows in different locations and uploads his standup shows on his YouTube channel. Harsh Gujral is also known as Sasta Vicky Kaushal, and his idol is Kapil Sharma. 
Physical Statistics
Height – 5'6" (in feet inches)
Weight – 74 Kg (in kilogram)
Eye Color – Dark brown 
Hair Color – Dark brown 
Relationships/Family
Harsh Gujral was born into a Punjabi family in Kanpur, Uttar Pradesh, India. He has his father, a lawyer and mother (housewife) in the family, besides three sisters, Pooja, Aarti, and Deepti. 
Career
During his school days, Harsh Gujral used to mimic other people, which seemed hilarious to people. Harsh Gujral believes all his humour comes from his hometown Kanpur and his mother. Harsh Gujral performed his first stage show in 2017 when his friends insisted him to do so. 
Before he started doing stand up shows, he worked with different companies, one of which was Rate Gain based in Noida (2012), where he was working as a Database Engineer. The best part was that he didn't even know that he was working as a database engineer in this company. Harsh has also worked with IBM, HCL, and TCS. 
Harsh used to get bored in that corporate environment, so he started writing jokes based on his observation in the office. His comedy is based on real-life events and people. Harsh Gujral was living in the UK for a year, after which he started doing comedy standups after seeing people doing it there in the country. He came back to India and started doing shows at Canvas Laugh Club. 
Famous standup comedian Jeeveshu Ahluwalia guided him to do open mics, and until then, Harsh Gujral didn't know of open mics. He began his search for the same and landed Canvas Laugh Club, Gurugram, Haryana. Harsh randomly mailed him, stating that he wanted to work with Jeeveshu, after which he guided him to follow the right path. Harsh Gujral has done shows in Singapore, Doha and is planning to do it in New Zealand, Dubai, and Australia. 
In an interview, Harsh Gujral said:
Stage comedy has many dimensions to it, and it requires strength to struggle through the writing process. I am still learning the tricks of my trade. But despite all the challenges, the last two years were like a dream run. And I loved every bit of it."

His advice to all the young dreamers is that "keep your dreams alive and keep working hard for them. Never give up as dreams do come true."
Harsh Gujral has been in a few relationships, and he hasn't shared about his current relationship. One of his ex-girlfriends asked for a gift (dog) from Harsh. Since he didn't have money at that time (during school), he just picked a street dog, cleaned it, and gifted it to her, saying it is a Doberman. 
Interesting Facts About Harsh Gujral
1. Harsh Gujral is a standup comedian who uploads his comedy stand-ups on YouTube. It is his picture from the time when he first held the mike. 
2. Harsh has a YouTube channel titled as his name, and he has received a Silver button for his YouTube channel. 
3. He loves dogs, and he has a pet named Oreo, who is also on Instagram. 
4. Harsh Gujral is popularly known as 'Sasta Vicky Kaushal' since his appearance is quite similar to the actor. 
5. Harsh was a fun-loving kid, and he used to bargain money for eating food with his mother. 
6. During childhood, Harsh was quite mischievous, and he used to trouble his teachers a lot.
7. Harsh believes that he has answers for every question, and that's what makes him different from other comedians. 
8. Harsh Gujral got massive popularity after he uploaded a video titled 'Shaadi Ki Rasmein' on his YouTube channel on 5 September 2019. This video crossed approximately 5 million in just four days on uploading. 
9. Harsh Gujral studies crowd sitting before he starts his stage performances. 
10. Harsh Gujral is a dear friend of Anubhav Singh Bassi and loves his standup comedy acts. 
11. Harsh's favorite actress is Bollywood actress Disha Patani. 
12. Harsh Gujral loves playing cricket, and he loves playing it with his friends. 
13. He believes biting his nails is his worst ever habit. 
14. Harsh Gujral's idol is famous comedian Kapil Sharma. 
15. Harsh Gujral has done shows in Singapore, Doha and is planning to do it in New Zealand, Dubai, and Australia. 
16. Harsh has a similar uncanny appearance with that of Bollywood actor Vicky Kaushal and somewhat like Arjun Kapoor. However, he thinks he looks better than Vicky Kaushal. 
Latest Update About Harsh Gujral
Harsh Gujral was tested positive for COVID-19, however he has tested negative now and is absolutely well.