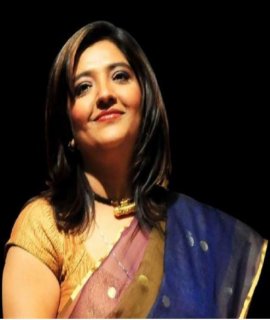 Kanu Priya (TV Anchor & Founder of Gul Guncha Arts) Wiki, Bio, Height, Weight, Death, Family, Interesting Facts, Biography, and More
Hometown
Delhi (Current home - Noida)
Occupation
TV Anchor, Actor, Host, Author, Acting Coach, Film Director
Known For
Founder of Gul Guncha Arts & Actor Unveiled. Also hosted a show on Awakening with Brahma Kumaris
Death
2021 (Due to COVID-19)
Biography
Kanu Priya was a TV anchor who had almost 30 years of experience in the media industry. She started her journey as an actor and acted in more than 80 serials and 50 telefilms. Telefilms in which Kanu Priya worked were Tumhara Intezar Hai, Anaro, Ranjishen, Ab Aur Nahi, Sur Sargam, Bhanwar, Kahi Aek Gaon, Meri Kahani, Kartavya, Tesu Ke Phool. Kanu Priya did her schooling from k.v sec 8 r.k.puram and then went to University of Delhi for further studies.
Physical Statistics
Height – 5'6"
Weight – 95 kg (approximately)
Eye Color – Dark brown
Hair Color- Dark brown
Relationships/Family
Kanu Priya was married. She has two daughters, Ojaswini Gul (actor) and Guncha (actor).
Career
Kanu Priya began her career as a freelance actor, voice-over artist, scriptwriter, theatre artist. After that, in 2005, Kanu Priya started her own media company called Gul Guncha Arts that aims at a simple agenda of creating socially responsible media. In her company, she was primarily working on creating issue-based documentaries, shows, and short films.
Kanu Priya moved on to work as a host in a spiritual series like Awakening with Brahma Kumaris with BK Shivani Verma, Sai Ki Mahima, Mann Ki Baat, and more. In 2011, Kanu Priya revived her company, Gul Guncha Arts, and produced talk shows, semi-fiction series, Itz My Life on NDTV imagine, Call Mitra- The Helpline Show on News 24, and New Age Parenting on Headlines Today.
Since 2015, Kanu Priya has been working in writing, directing, producing, and creating fiction series. Kanu Priya even produced a show called Karmbhoomi on Bindaas Channel. Kanu Priya was also creating and performing new-age theatre performances via her theatre group called 'Actor Unveiled,' where she trained students for acting and anchoring. Kanu Priya was even working on more such ambitious projects, including two feature films.
When asked from Kanu Priya in an interview, how does she describe herself as a spiritual seeker. She said:
As I told you, it just happened. I was always inquisitive about life, that is why I was good anchor but when spirituality happened I started asking questions about life and that's why I became a seeker. It gave me answer to things which I never knew."
Also, when asked about her show, 'Karmbhoomi,' she said:
"Karmbhoomi" is a youth oriented innovative and socially responsible concept with a vision for 2020. Basically it is to create leaders, who can inspire the youth to follow a path of self-improvement and decision making by the year 2020. The series has six main protagonists who believe in changing the world. Each of them will deal different issues like feminism, body image issues, creating awareness regarding mental health among youngsters, tackling the various problems of old-age, creating recycled products, adverse effects of societal pressure and creating awareness for environmental issues. We will be going to every university, every college with our Karmbhoomi leaders. It is all about how, what and why. What we are going to do is create leaders so that they can inspire others."
Interesting Facts About Kanu Priya
1. Kanu Priya always loved acting on stage. She has acted in several stage shows and delivered some remarkable performances throughout her career.
2. Kanupriya always had a passion for writing. She had keen interest in script writing.
3. She loved traveling to different places nationwide. Usually, she used to explore places with her daughters.
4. Kanu Priya also worked as an anchor for Doordarshan during the 1990s, where she used to host evening live shows.
5. Kanu Priya was a host in the TV show, Awakening with Brahmakumaris.
6. Kanu Priya had a keen interest in spirituality from a very early age. She worked with several spiritual shows with Aastha Channel at one point in time.
7. She always looked up to the Indian theatre director and drama teacher, 'Ebrahim Alkazi.'
8. Kanu Priya was a talkative person, and when someone in an interview asked her about her journey as an anchor on Aastha TV, she said:
I was very good in talking (laughs), so I became an anchor. I always enjoyed getting information and was able to connect it together and pass on to people. I never wanted to be an anchor; it just happened and even as an anchor I was involved in so many others things. In the early 90s, anchoring was more formal and now it is more informal, because that is the trend. It is just a conversational flow of thoughts. Aastha was my spiritual journey and it happened at a time when I was going through a major shift in my life. I am very thankful to Aastha Channel for those seven-eight years which was my spiritual break."
9. Kanu Priya adored animals, especially dogs and loved to flaunt her pet:s clicks on social media.
Death (30 April 2021)
Kanu Priya died on 30 April 2021 after fighting the deadly Coronavirus. TV anchor Kanupriya lost a long battle to deadly COVID-19 and left for the heavenly home. BK Shivani shared the news of her demise on social media.
Her last post on Facebook said,
Dear Facebook Family
Everyone I, Kanu Priya, am currently in the hospital fighting Covid.
Requesting everyone who knows me or doesn't ; please start praying for me.
Please, please pray that the oxygen levels come up and fever stays down
I consider myself a fighter and am fighting this virus with all my might. So please help me in this fight by sending prayers that I win this.
We believe that prayers create magic and miracles. Please start sending prayers."
Related: RIP – Brahma Kumari TV anchor, Sister 'Kanupriya,' passes away due to COVID-19