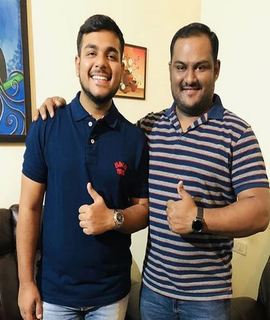 Viwa Brothers (Akash Joshi-Vishwa Joshi) Wiki, Height, Age, Girlfriend, Family, Biography, And More
Full Name
Akash Joshi, Vishwa Joshi
Relationship
Akash (Engaged to Ridhhi Patel), Vishwa (Unmarried, Single)
Famous For
YouTube Channels - Viwa Brothers, Viwa Food World, and Street Food Unlimited
Viwa Brothers is a popular Indian YouTube channel owned by the brother's duo; Akash Joshi and Vishwa Joshi.
Biography
Akash Joshi was born on 27 December 1988; age 32 years in 2020, in Vadodara Gujarat. He has studied at Bright school, and later, he studied at Maharaja Sayajirao University, Gujarat.
Vishwa Joshi was born on 13 July 1996; age 24 years in 2020, in Vadodara Gujarat. He studied at Urmi High School, and later, he attended Shree P.M. Patel Institute of Bio-Science, Anand in Gujarat.
Physical Statistics
Akash Joshi
Eye Colour- Black
Hair Colour- Black
Height- 5' 8" (approximately)
Vishwa Joshi
Eye Colour- Black
Hair Colour- Black
Height- 5' 7" (approximately)
Parents, Siblings, and Wife
Akash and Vishwa do not have any other sibling. In August 2020, Akash got engaged to Ridhhi Patel. There is no information about Vishwa's girlfriend.
Career
Akash started his career as a photographer and owns a photography studio, 'Galaxy Dreamworks.' Initially, Vishwa started the YouTube channel and later, Akash joined him as an editor; as he was not confident to face the camera. Later, both started making videos related to eating challenges.
They own two other Youtube channels, Viwa Food World and Street Food Unlimited. They gained immense popularity with their videos and has more than 3 million followers on their YouTube channel, 'Viwa Brothers.' In 2020, they were featured in an episode of the History TV 18's TV show, 'OMG Yeh Mera India' as Foodie Bhai.
Some Interesting Facts About Viwa Brothers
Vishwa's favourite food is Pizza wheras, Akash loves to eat Indian food.
Vishwa's favourite sport is Football.
Akash is a bike lover, and he plays flute and piano very well.
Vishwa's nickname is Vishu and loves travelling to different places.
Akash is a bike lover and owns a few expensive bikes.
Vishwa used to be fat earlier but with his hard work and regular exercise, he got back in shape.
Akash and Vishwa are animal lovers and have two dogs; Eva and Lana (Lana died).
They also have two turtles and one hamster.
They both follow a vegetarian diet.
Akash has a tattoo on his left wrist.