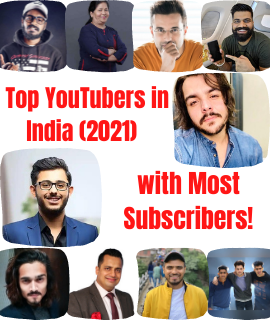 Top YouTubers in India (2021) with Most Subscribers | The Celeb Bio
In Blog
Top YouTubers in India (2021) with Most Subscribers
Is your lockdown getting dull day by day? Well, you definitely must have visited YouTube to watch some vlogs, entertaining videos, or so. YouTube comes to the rescue, and even during the entire lockdown phase, it has come in handy.
Some people love watching videos on YouTube, while others love making content. And their careers are skyrocketing, it seems.
So, here are Top 10 YouTubers in India with the most subscribers and most entertaining content that everybody loves to watch.
Top YouTubers in India (2021) with Most Subscribers
Let's explore the list!
Carry Minati is amongst the top YouTuber in India, with more than 30 million subscribers. He joined YouTube on Oct 30, 2014. Carry focuses on creating comical content by roasting other people. Carry has even uploaded videos singing and rapping on his channel. Besides, he also makes live videos while gaming online.
2. Ashish Chanchalani
Ashish Chanchalani is another popular YouTuber in India with more than 26.4 million subscribers. Ashish's genre is a comedy, and he uploads vines on his channel. He has collaborated with popular Bollywood actors like Akshay Kumar, Shahid Kapoor, Kartik Aaryan, and Hollywood personalities
from Avengers Stargame and Tom Holland. He joined YouTube on Jul 7, 2009.
3. Amit Bhadana
Amit Bhadana is another in the league of top YouTubers in India with the most subscribers. He crossed 23 million subscribers in 2021 and joined YouTube on Oct 24, 2012. His videos are about topics from everyday lives, which people can relate to. Amit Badhana gives a comical touch to his videos to make people smile.
4. Bhuvan Bam
Bhuvan Bam has more than 20 million subscribers on his YouTube channel. He joined YouTube on June 20, 2015, and most of his content surrounds funny instances happening around him and his family. His most popular videos are Mr. Hola v/s Sameer Fuddi, Angry Masterji series. BB Ki Vines got famous because of his sense of humor and originality, to which people related so much back then when he started. Bhuvan Bam is also a singer and often uploads music videos in which he sings and appears.
5. Gaurav Chaudhary
Technical Guruji, aka Gaurav Chaudhary, is one of the most famous YouTubers in the genre of technology. He talks about the latest technology and phones launched in the market. He uploads unboxing videos on this channel and gives reviews about the same. Technical Guruji videos are super easy to understand and help people know about the product quickly.
He has more than 4 million subscribers on another YouTube channel titled with his name. Gaurav is currently based in UAE.
6. Round2hell
Round 2 Hell joined YouTube on 20 October 2016, and he has more than 20 million subscribers in 2021. This channel is a community YouTube channel maintained and run by three friends, Wasim Ahmed, Nazim Ahmed, and Zayn Saifi.
Sandeep Maheshwari joined YouTube on 13 February 2012. He is a motivational speaker and also the CEO of ImagesBazaar. He runs two YouTube channels, where he uploads motivational sessions on one spirituality video on another. In 2021, he has more than 19 million subscribers on his YouTube channel.
8. Vivek Bindra: Motivational Speaker
He is a motivational speaker, as mentioned in the title of his YouTube channel. If you are interested in running a business or want to know more about entrepreneurship, this channel is just for you. Dr. Vivek Bindra also offers courses on his channel. He has more than 16 million subscribers in 2021.
9. Emiway Banta
Emiway Banti started his YouTube channel on 4 May 2013 and since then he has been posting his music videos on the channel. His channel is an amalgamation of Lil Wayne and Eminem. One of his most popular videos on his channel is EMIWAY – FIRSE MACHAYENGE
10. NishaMadhulika
NishaMadhulika started her YouTube channel on 2 August 2009. Her channel is all about cooking and sharing some easy-to-cook vegetarian recipes, which can be easily followed by the people. People watch her videos for knowing how to cook any dish in the quickest time and with ingredients that are easily available at home.