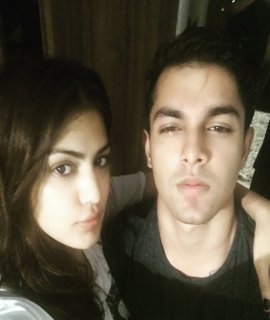 Showik Chakraborty (Rhea Chakraborty's Brother) Wiki, Height, Age, Family, Girlfriend, Bio
Real Name
Showik Chakraborty
Famous As
Actor Rhea Chakraborty's Brother
Biography
Showik Chakraborty is the younger brother of popular Indian actress, Rhea Chakraborty. He was born on 28 August 1996 in Bangalore. He completed his schooling from Army Public School Ambala Cantt and Mumbai's Bombay Scottish School in Mahim. He was a member of the football team at his college.
Physical Statistics
Eye Colour: Black
Hair Colour: Black
Height (in feet) approximately: 5' 8"
Parents and Siblings
Showik was born in a Hindu Bengali family to Indrajit Chakraborty and Sandhya Chakraborty. His elder sister is the famous Indian actress, Rhea Chakraborty.
Girlfriend
Reportedly, he is in a relationship with a girl named Jameela.
Controversy
He came into the news in 2020 after the death of Late Sushant Singh Rajput. Showik, Rhea, and their parents were accused of transferring a huge amount from Sushant's bank account to their own accounts. As per some sources, on 14 October 2019, Rs. 81,901 was used for his flight expenses and Rs. 472,925 were spent on his hotel stay from Sushant's bank account.
Career
He is the co-founder of two companies in Mumbai along with Late Sushant Singh Rajput. On 12 September 2019, a company based on artificial intelligence, mixed reality, and experiential technology was founded with the name Vividrage Rhealityx Pvt Ltd. On 6 January 2020, Showik and Sushant founded an NGO, Front India For World Foundation with an aim to eradicate poverty, malnutrition, and hunger.
Controversy (Arrested by the NCB)
NCB (Narcotics Control Bureau) arrests Showik Chakraborty and Samuel Miranda after they admitted to drug procurement. On Friday, 4 September 2020, Showik Chakraborty is arrested by the NCB in connection with the 'drug angle' investigation in the Sushant Singh Rajput death case.
The arrest orders were releases minutes after Showik Chakraborty allegedly confessed that he had procured drugs on the commands of his sister, Rhea Chakraborty.
Showik Chakraborty even claimed that his sister, Rhea Chakraborty used to ask him and Sushant's ex- house manager, Samuel Miranda to obtain drugs from drug peddlers, as per the NCB sources.