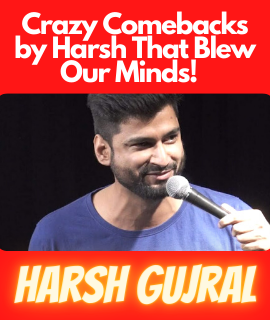 Harsh Gujral Dialogues That Got CRAZY Popular!! *Hilarious WITTY Comebacks*
Full Name
Harshdeep Gujral
DOB
1993 (28 years in 2021)
Hometown
Kanpur, Uttar Pradesh
Occupation
Stand Up Comedian
In Blog
Hilarious comebacks by Harsh Gujral
Harsh Gujral Dialogues that are crazy AF!
Don't we all need a short yet accelerated moment of fun that gives us non-stop trickling of laughter? So here we head to comedy!
Harsh Gujral: The Super WITTY Standup Comedian
An extravagantly funny standup comedian, Harsh Gujral who's been performing for a year now has got a huge mass to fill his hall. He was featured on PTC Punjabi 'Teddi Life Thodi Comedy' on 21st July 2021. He is a YouTuber, comedian, social media star, and television personality with a difference. In recent years standup has pulled a lot of frequency, many Indian comedians have made a benchmark.
Harsh Gujral succeeded in building his place, his presence made it more diverse. He has a brilliant sense of fabrication which is seen through his humor-filled experiences and super hilarious punch lines. The show ends up being the audiences' show as he indulges the whole crowd, he's amazing at his interactions.
Harsh makes every part of his show as natural as possible through his random conversations, here we've got his funniest and oozing dialogues that got famous.
'Kon Bana Raha Inkii Profileee'
His punch lines fit amazingly well for different memes. It blew the audience with its delivery. He was talking about girls who finds guys for marriage on online sites.
'Yahi Chahiye Hume'
While mocking reality shows, he got this in the best way possible which held the public instantly.

Moments and dialogues got so famous that it is trending like anything on social media!!
'Jo Bolta Hai Wohi Hota Hai'
This is a tremendously famous one that was a part of his trials. He pulls on his witty and charming style and trickles his trendy dialogues in his new content as well.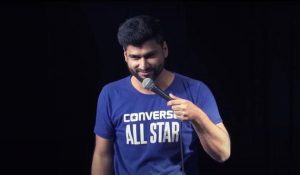 'Hum Log Galat Cheezo Ke Liye Famous Hein'
This came up from his video 'Kanpur and River Ganga', the way he wrapped humour in his introduction was spectacular. This again got its place in several memes.
'Sasta Vicky Kaushal'
This one is relative to many, while mocking his looks imitating to be self -obsessed. His usual craft!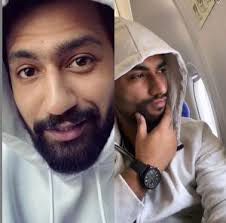 'Bhaisahab, itne mein toh kitni Russian aajaatein'
Another trendy one, came up with an expression while talking to one from the audience. This video got massive popularity and made him one of the most trending standup comedian overnight. The video was "Shadi Ki Rasmein."
'Beheno ki Shaadi karni he'
This has been a pivot to many of his performances where he portrays the pressure of being a brother after 3 sisters.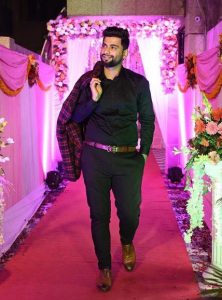 '19 saal pehle hi 5rs use karlete'
It's again random and a mic-dropping moment with a random person from the audience, who claimed his father has a lot of money and spent a lot on him. Harsh cambeback with this dialogue. *Hilarious*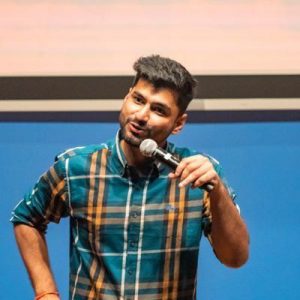 'Tum nason se khoon kheechlo na mere'
It's his way of showing the extremity of torture, also turned out to be meme content.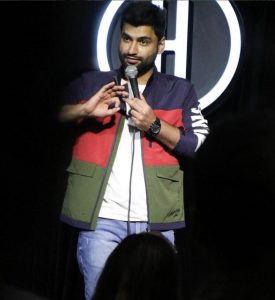 'Lawyer ho?'
Here he shows relativity and comparison for his father being a lawyer as someone in the audience was a lawyer. The witty style he fritters is amazing.
Do you have any of Harsh Gujral dialogues in your mind, which you think is crazy as hell? Drop it in the comment section!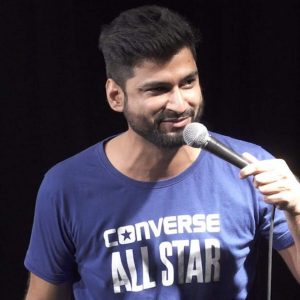 Want to know more about Harsh Gujral? CLICK the link below!
Harsh Gujral (Sasta Vicky Kaushal) – Wiki, Bio, Height, Weight, Family, Relationships, Interesting Facts, Career, Biography, YouTube, Acting, Girlfriend, and More