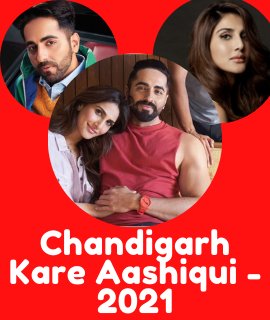 Chandigarh Kare Aashiqui 2021 Full Cast and Crew
Movie Name
Chandigarh Kare Aashiqui
Directed By
Abhishek Kapoor
Story
Abhishek Kapoor, Tushar Paranjape, Supratik Sen
Lead Actors
Ayushmann Khurrana and Vaani Kapoor
Chandigarh Kare Aashiqui 2021 Full Cast and Crew
Directed By – Abhishek Kapoor
Produced By – Smriti Jain, Rohit Jayaswal, Pragya Kapoor, Bhushan Kumar, Gaurav Mishra
Story – Abhishek Kapoor, Tushar Paranjape, Supratik Sen
Chandigarh Kare Aashiqui 2021 Full Cast and Crew
Chandigarh Kare Aashiqui is an upcoming Bollywood Hindi-language romantic drama directed by Abhishek Kapoor and produced by T-Series. The movie features Ayushmann Khurrana and Vaani Kapoor and the movie was officially announced in July 2020. The movie is expected to release on 9 July 2021.
1. Ayushmann Khurrana
2. Vaani Kapoor
3. Leena Sharma
4. Col Ravi Sharma
5. Ssumier Pasricha
6. Arav Dua
7. Anav Dua
Related Post:
We did mention about this project earlier too!!! Check it out here.
Follow Us!
https://www.facebook.com/thecelebbio
https://www.instagram.com/thecelebbio/
https://in.pinterest.com/thecelebbio/