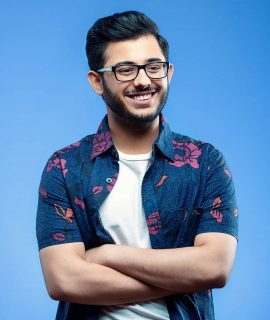 CarryMinati (Ajey Nagar)–Wiki, Height, Age, Family, Income, Girlfriend, Biography, Movie, Real Name, Brother, Father, Birthday
Hometown
Faridabad, Haryana
Biography
CarryMinati, aka Ajey Nagar, is a renowned Indian YouTuber who is best recognized for his roast/reaction videos. Apart from roast videos, he is also known for creating satirical parodies, live gaming, and comedy sketches.
CarryMinati is an Indian YouTuber born in Faridabad, Haryana, on 12 June 1999. His age is 21 years as of now in 2020.
Ajey Nagar has completed his schooling from Faridabad, Haryana, till 11th class. After that, he did his 12th from distance learning. He has never gone to college.
Physical Statistics
Eye Color – Black
Hair Color- Black
Height (in feet)- 5'5" approximately
Parents/Siblings
CarryMinati belongs to a well-knitted family. He lives with his mother, father, and elder brother.
His brother's name is Wily Frenzy aka Yash Nagar, who is a record producer and DJ. Yash Nagar has more than 56k subscribers on YouTube in 2020. Both Ajey and Yash are really close to their parents. CarryMinati enjoys a happy life with his parents.
Girlfriend
Carry Minati is Single/Unmarried.
Career
Back in 2007, CarryMinati used to play games on Windows 2007. He developed an interest in YouTube at the age of 8, after watching football tutorial videos.
He started his first YouTube Channel named 'STEALTH FEARZZ' in 2014, where he uploaded videos related to Football tutorials. Later, he created another YouTube channel with the name 'Addicted A1,' which he mentioned in one of his videos, and this channel was about game plays.
Unlike today, his videos didn't get much attention from the public in the beginning. CarryMinati used to make commentary videos in which he impersonated the Bollywood actors, Shah Rukh Khan, and Sunny Deol. He started getting views on commentary videos and later changed his channel's name to 'CarryDeol.' After gaining popularity, he changed his channel's name to 'CarryMinati.'
His first video on his YouTube channel, 'CarryMinati' is "COD Ghost Rant in Hindi; uploaded on 28 June 2015.
CarryMinati got massive popularity after uploading a diss track on the famous YouTuber, PewDiePie named 'Bye PewdiePie' on 1 January 2019.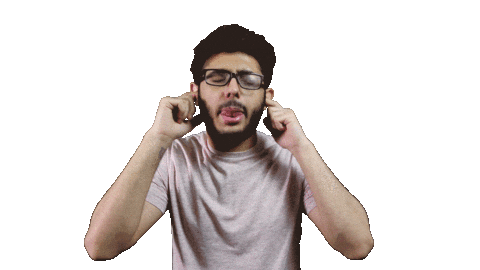 He sang a few cringe tracks, including 'Charas Ganja,' 'Ae Rupali,' 'Insaan hi Insaan ko Pehchanta Nahin.' These tracks were for one of his YouTube videos representing Yo-Yo Bantai Rapper; uploaded on 26 January 2018. He collaborated on other songs titled TRIGGER with Vibgyor in 2019, and Zindagi and Warrior with Wily Frenzy in 2020.
CarryMinati is a renowned YouTuber with more than 7 million followers on Instagram. He has gained popularity across the world for his roast videos. He has more than 20 million followers on YouTube as of 2020.
Deepak Char manages CarryMinati's business.
On 21 June 2016, he uploaded a roast video on the famous Indian YouTuber, Bhuvan Bam (BB Ki Vines), which was transformative for his channel. The subscribers on his YouTube channel, 'CarryMinati' went up quickly after uploading this video. His other popular roast videos are on Dhinchak Pooja, Deepak Kalal, and various TikTokers.
On 8 May 2020, CarryMinati uploaded another roast video called 'YouTube vs. TikTok' on his channel. The video did extremely well, and it generated more than 5 million views within one day and was trending #1 within a few hours of uploading. YouTube, later, pulled down this video on 15 May 2020 for violating its policy on cyberbullying and harassment.
Since this incident, CarryMinati's fans have been supporting him with Twitter hashtag trends including "#JusticeforCarryMinati."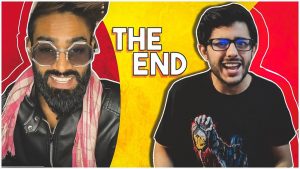 This roast video turned out to be a stunner for his channel. He got massive support from the viewers, even though YouTube removed it. CarryMinati was unhappy about this whole incident, however, the Indian YouTuber, Ashish Chanchlani, and the Bollywood actor, Himansh Kohli came out supporting him on Twitter.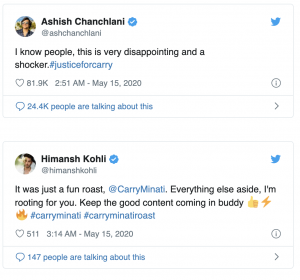 The veteran television actor, Mukesh Khanna, aka Shaktimaan also supported CarryMinati after his video was removed from YouTube. On 5 June 2020, CarryMinati released another YouTube video, 'Yalgaar Humari Kahaani' in collaboration with his brother, Wily Frenzy.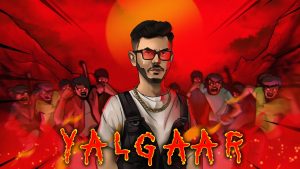 CarryMinati aka Ajey Nagar appeared in the Bollywood movie Runway 34 (2022) as himself, a movie starring Ajay Devgan, Amitabh Bachchan, and Rakul Preet Singh in key roles.
Interesting Facts About CarryMinati
1. CarryMinati's catchphrase is "Toh Kaise Hain Aap Log," which he uses in his YouTube videos.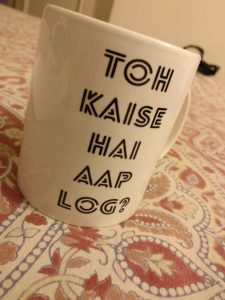 2. Ajey Nagar always mentions 'Mohit' in the outro of his videos.
3. He was weighty during his teenage, due to which he had some health issues including anxiety issues. After regular gymming and a controlled diet, he managed to get back into shape.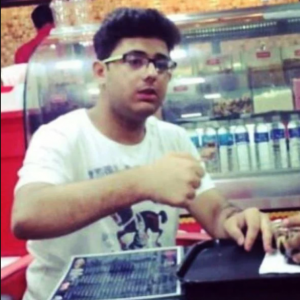 4. CarryMinati is the only Indian YouTuber who got an opportunity to meet Hollywood superstar, Tom Cruise.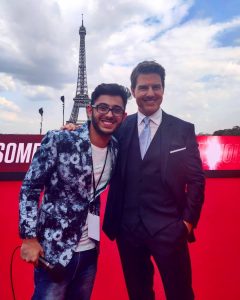 5. Carry has a tattoo- "ऊँ Nama: Shivai:" on his right arm.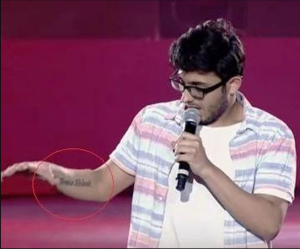 6. CarryMinati has even met Henry Cavill – Man of Steel.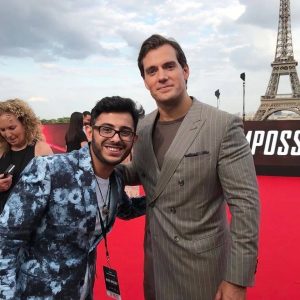 7. In one of his interviews, when a reporter asked how his parents had reacted to CarryMinati's decision of being a YouTuber,' he said:
Right, parents usually see it as a huge waste of time. My parents took it really well. Most of the parents don't support it because they don't know about it, but my parents tried to understand it, and they are happy for me now."
8. CarryMinati crossed 1 Million followers in 2017 and received a gold play button from YouTube. After this, he started another channel with the name – Carry is Live!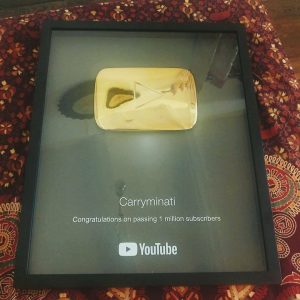 9. In an interview in 2018, when asked about the weirdest brand brief he had ever received, he replied,
There was a brand that wanted us to integrate a direct advertisement for 4 minutes into my video, which is on average of 5-6 minutes. They basically wanted me to publish a whole video ad on my channel!"
10. While appearing for the 12th board exams (Economics), CarryMinati's got so nervous, that he decided to drop out of the school.
11. CarryMinati was featured in Time Magazine's Top 10 Next Generation Leaders.
12. He received a diamond play button from YouTube after crossing another milestone of 10,000,000 subscribers.