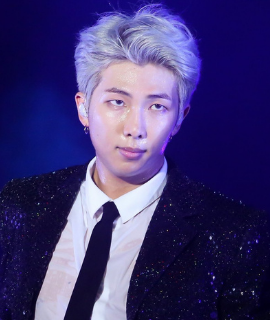 Kim Nam-joon aka RM (rapper)- BTS-Wiki, Bio, Height, Relationships, Facts, Career, Biography
Hometown
Dongjak-gu, South Korea
Known For
Being a rapper, singer, songwriter, and lead member of BTS
Biography
Kim Nam-joon (Korean: 김남준) was born on 12 September 1994 in Dongjak-gu, South Korea. He was born and brought up in Ilsan-gu, where he along with his family moved when he was just five years old. RM is popularly known by his stage name 'RM.' He was earlier known as 'Rap Monster' and is a South Korean rapper, record producer, and songwriter. RM is the leader of the 'South Korean boy group, BTS.'
As a child. RM used to learn English while watching 'Friends' with his mother. As a student, he was quite a smart kid who used to write poetry and received awards for his writings too. RM used to post his poetry work on an online site for almost a year, which got him attention. He also had an interest in pursuing a literary career but didn't choose it though.
Interest in Hip-Hop!
RM got highly interested in hip-hop music after listening to Epik high's 'Fly' while he was just 11 and in his fifth grade. He believes that this song comforted him somehow and due to which he decided to explore this genre more. His interest grew more in hip hop, lyricism, and music after his school teacher introduced him to American rapper, Eminem. Kim Nam-joon aka RM used to feel cool once he used to share the printing lyrics with them. RM got into writing lyrics after that, saying that his poetry becomes lyrics when he combines it with the music.
In 2007, Kim Nam-joon started rapping in local amateur hip-hop circles while he was still in the first year of middle school. RM created his first self-composed recording using Adobe Audition, which was known as Cool Edit back then. Kim Nam-joon got a chance to participate in his first concert in 2008. He became highly active in the underground 'Korean Hip-Hop' scene under 'Runch Randa' and released numerous tracks with other rappers, including Zico, who is a well-known rapper of Korea.
As a Student!
As Kim Nam-joon was a bright student, he scored in the top 1% of the nation in the university entrance examinations for foreign language, math, language, and social studies besides having an IQ of 148. However, Kim Nam-joon was developing more and more interest in music and hip-hop, his parents were not really supportive of his decision. They strongly opposed his music career as he was a brilliant student with excellent academic achievements. Initially, after getting influenced by his parent's decision, he kept music aside to focus more on his studies. He convinced her mother to let him be the rapper with the statement, ''Do you want to have a son who was a first-place rapper, or a 5000th place student?"
RM released his first solo mixtape, RM back in 2015. He released his second mixtape, Mono in 2018. It was RM's highest-charting album by a Korean soloist on the 'Billboard 200 chart,' which peaked at 26. RM got a chance to record with famous artists like, Younha, Warren G, Wale, Krizz Kaliko, Fall Out Boy, Lil Nas X, Primary, and MFBTY.
Adoption of Stage Name
Kim Nam-joon chose the name 'Rap Monster' during his time as an idol trainee. His name is often misunderstood because it signifies 'raps like a monster.' His name is taken from the lyrics of one of the songs he wrote, inspired by San E's 'Rap Genius.' He was named 'rap genius' after San E declared he should be known as a 'rap monster' as he raps non-stop. Kim Nam-joon chose this stage name as he believed it was cool. However, he said he has a love-hate relationship with the name, feeling that it was not chosen that anyhow brings incredible value to him.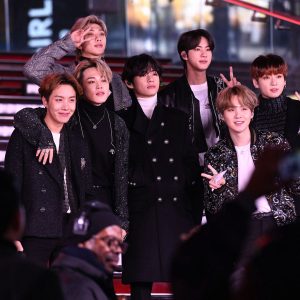 He officially changed his stage name to 'RM' in November 2017 as he knew and said that 'Rap Monster' name was no longer representing him as who he was or the kind of music that he creates.
Physical Statistics
Height- 1.81 m (in meters), 5'11" (in feet inches)
Weight- 67 kg (in kilogram)
Eye Color – Black
Hair Color – Black (Often Dyed to Grey, Brown, Blonde)
Parents/Siblings
Kim Nam-joon belongs to a family in Dongjak-gu, South Korea. He is the elder brother of two siblings and has a younger sister. RM's father is an employee of SK Telecom and his mother is a realtor.
Girlfriend/Wife
He is single and unmarried in 2021. However, he had a girlfriend in high school, whom he broke up with.
Career
Debut with BTS and Big Hit Entertainment (2010-2013)
Kim Nam-joon started his career in 2009 when he auditioned for Big Deal Record, where he passed the first round along with Samuel Seo. RM lost the second round though, as he forgot all the lyrics of the song. After the audition, rapper 'Sleepy' exchanged contact information with him, which he even mentioned to Pdogg, producer of Big Hit Entertainment. In 2010, Sleepy contacted RM, pushing and motivating him to audition for Big Hit CEOBang Si-hyuk. Bang offered Kim Nam-joon a spot at the record label and he immediately accepted the offer, even without having a word with his parents. As soon as the offer was accepted, bang and Pdogg started production of a hip-hop group, which eventually turned into BTS.
RM aka Kim Nam-joon was just 16 when he joined Big Hit Entertainment. During his career as an idol, RM even enrolled at Global Cyber University. As of 2020, RM is enrolled at 'Hanyang Cyber University' for pursuing a Master of Business Administration in Advertising and Media.
Kim Nam Joon Training!
Kim Nam Joon has been training for almost three years with his fellow rapper, 'Min Yoon-gi' and dancer, 'Jung Ho-seok,' whom we have popularly known as Suga and J-Hope respectively. While he was on his 3-year trainee period, he performed on five pre-debut songs credited to BTS in 2010 and 2011. RM also worked as a songwriter for a girl group, 'Glam', and have written their debut single, 'Party (XXO).' This song was praised by Billboard as 'one of the most forward-thinking songs' of the K-pop girl group in the past decade.
RM made its debut with BTS on 13 June 2013 and after that, he is constantly producing and writing lyrics for a ton of tracks for all albums released by BTS. Kim Nam-joon performed the intro track to BTS first 'extended play O!RUL8,2? On 29 August 2013. [/vc_column_text]
First Solo Collaboration (2014-2016)
On 5 August 2014, Big Hit Entertainment released a trailer for Dark & Wild, which is the first studio album of BTS on 20 August. The rap track was a solo performed by RM, which was later released under BTS, 'Intro: What Am I to You?' RM had a working relationship with Warren G, who through TV show, American Hustle Life produced Dark & Wild offered to give BTS a beat. Warren G stated that he had befriended BTS through the program in an interview with Korean magazine, Hip Hop Playa.
RM released a single with Warren G on 4 March 2015, which was titled 'P.D.D (Please Don't Die),' an offer which was made by Warren G to collaborate. This track signified the feelings of RM towards haters and those who used to criticize him at that time. It was an upsetting experience for him.
In March 2015, RM collaborated with a hip-hop project called MFBTY with Dino J and EE for the song, 'Bucku Bucku.' Rm also had a cameo in another music video of MFBTY called 'Bang Diggy Bang Bang.'
Kim Nam-joon aka RM also appeared in the Korean variety program, Problematic Men, where the cast is given several problems and puzzles to solve while talking about their experiences and thoughts. This show was aired on 26 February 2015 and RM left the show after doing 22 episodes, as he had to go on BTS' 2015 Red Bullet World Tour.
First Solo Mixtape
RM released his first solo mixtape on 17 March 2015, which ranked 48th on Spin's 50 Best Hip Hop Albums of 2015. This mixtape showcased several tracks, including Voice, Do You, and I'm me. His track 'God Rap' describes RM as an atheist, believing that it was just him who decided his fate. In 2016, RM looked back and saw that he had only been writing about the negative emotions that he was carrying throughout like rage and anger. He felt that many parts of the mixtape were immature. Also, it was not 100% under his sovereignty, which he didn't want with the next mixtape.
RM featured on Primary's 'U' where he was featured with Kwon Jin-ah in April. In August, RM collaborated with Marvel for the 'Fantastic Four's' soundtrack in Korea and released the digital single, Fantastic that also featured Mandy Ventrice. In August 2016, RM co-produced a single titled, Dilemma with Bang Si-hyuk.
Collaborations (2017-Present)
RM collaborated with American rapper, Wale for a track called Change, which was released as a free digital download along with a music video. They met over Twitter, after which Wale reached out to RM after seeing his cover of the track, 'Illest Bitch.' RM agreed to this track as he believed that instead of both rappers belonging to different countries, they both had one thing in common, which is to change the world for the better. After that, RM appeared on another track called 'Gajah' with Gaeko of Dynamic Duo.
In December 2017, RM was seen on a remix of Fall Out Boy's track, Champion, which led him to reach number 18 on Billboard Bubbling Under Hot 100 Singles. After this track, RM managed to reach number 46 on the Emerging Artists Chart for the week of January 8, 2018. Kim Nam-joon aka RM made history as the first K-pop artist to list on the Rock Digital Songs chart, where he was on number 2 on the list.
Mono!
RM released his second mixtape, 'Mono' in October 2018 referring to it as a playlist. RM achieved the number one position amongst Korean artists to rank number one on the Emerging Artists Chart in the US with the playlist. The tracks 'Seoul' and 'Tokyo' signified the deep insecurities of RM. The first track, Seoul, was produced by British electro-pop duo, Honne, who found RM after seeing him recommended their music on a social media channel, Twitter. They met in Seoul for the concerts after which the collaboration happened. RM collaborated with Tiger JK on his last album, Drunken Tiger (before retiring the name), and was seen in the track called, 'Timeless.'
Honne Announcements!
Honne announced on 25 March 2019 that RM will feature on the remake of 'Crying Over You' that also features singer, BEKA. It was released on 27 March. The track was originally released in 2018 by Honne. Later, Chinese singer Bibi Zhou was featured in the Chinese release along with RM, replacing BEKA. Big Hit Entertainment also released a track, 'Persona' on the same day, which debuted at 17 on Billboard's YouTube Song Chart. Persona is a trailer of BTS' EP Map of the Soul: Persona, which RM has just performed solo.
Three months after the release of Persona on July 24, 2019, RM was seen on the 4th official remix of Lil Nas X's 'Old Town Road,' which was titled 'Seoul Town Road.' RM featured on Younha's track, 'Winter Flower' on 29 December, which was released on 6 January 2020. RM also got featured on 'Don't', the title song of Korean singer eAeon's second solo album, released on 30 April 2021. In May 2021, BTS released another track, BTS (방탄소년단) 'Butter' Official MV.
RM's Television Appearances
4 Things Show – Rap Monster – 2014
Hot Brain: Problematic Men – 2015
Inkigayo – 2015
Close-up Observation Diary on Idol: Find Me – 2016
Gura-Chacha: Time Slip – New Boy – 2016
Inkigayo – 2016
KCON New York- 2016
M Countdown – 2017
RM's Music Videos Appearances
"Perfect Christmas" – 2013
"Do You" – 2015
"Awakening" – 2015
"Joke" – 2015
"P.D.D" – 2015
"Fantastic" – 2015
"Change" – 2017
"forever rain" – 2018
"Seoul" – 2018
RM's Short Films and Trailers Appearances
"Intro:O!RUL8,2" – 2013
"Intro:What Am I To You?" – 2014
"Reflection #5" – 2016
"Persona" – 2019
Interesting Facts About Kim Nam-joon aka RM
1. Kim Nam-joon aka RM is the lead of the band, BTS.
2. He destroys everything he touches, including doorknobs, glasses, clothes. His other BTS members call him the God of Destruction.
3. RM's favorite quotes are "Jimin, you got no jams" and "Teamwork makes the dream work."
4. Kim Nam-joon aka RM is smart with an IQ of 148. He was ranked in the top 1% of the nation in his high school examinations.
5. RM fluently speaks English, and he self-learned the language.
6. He loves imitating other BTS members for fun.
7. RM loves dancing, singing, and rapping.
8. He loves dying his hair in different shades, including grey, pink, and blonde.
9. RM loves clicking selfies and often posts them on his social media channels.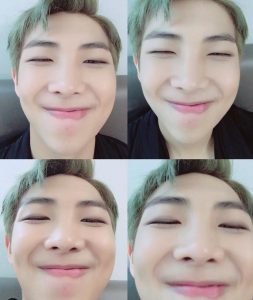 10. He has a love for cute things.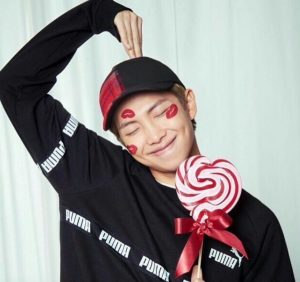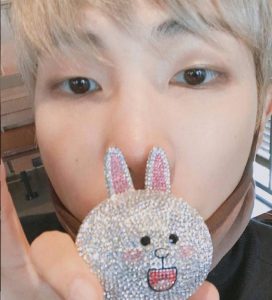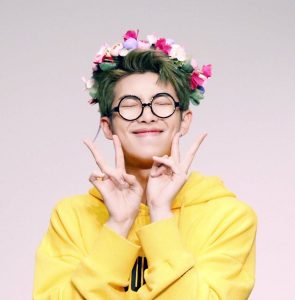 11. RM rapper signature.
12. Kim Nam-joon aka RM along with his band members have been on 'The Tonight Show Starring Jimmy Fallon.'
13. He along with all his BTS members were invited to speak at the UN, where he talked about his collaboration with UNICEF.
https://www.facebook.com/thecelebbio
https://www.instagram.com/thecelebbio/
https://in.pinterest.com/thecelebbio/
https://www.linkedin.com/in/the-celeb-bio-15004b1b0/
RELATED READ:
BTS aka Bangtan Boys Details: For Every 'BTS Simp' Out There!