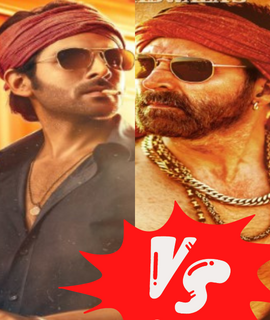 Shahzada Poster vs. Bachchan Pandey Poster: What's So Similar between Kartik Aaryan's & Akshay Kumar's posters?
In Blog
Shahzada Poster vs. Bachchan Pandey Poster
Objective
To compare how the posters of both movies look similar
Actors Included
Kartik Aaryan and Akshay Kumar
Movies Release Dates: Shahzada & Bachchan Pandey
10 February 2023 (Shahzada) & 18 March 2022 (Bachchan Pandey)
We are sure every Bollywood fan has watched the poster and trailer of Shehzada launched recently. While watching the poster, has anyone gone into Deja Vu? There are numerous reasons why you may have experienced Deja Vu after viewing the poster for Shehzada, including the fact that you have already seen the nearly identical poster for Bachchan Pandey!
If you glance at the Shahzada poster vs Bachchan Pandey poster, you can see how many similarities the two posters hold. Everything looks similar, from the red headband to the blackish sunglasses and the heavy gold chains and wristbands. The only difference is that Akshay Kumar uses props in the poster are weapons, while Kartik Aryan has a scooter as the prop. Otherwise, the entire outfit of the actors in these posters is very similar, and you can spot the similarity in one go. 
Bhool Bhulaiya 2, starring Kartik Aaryan, was frequently contrasted with Bhool Bhulaiya 1, starring Akshay Kumar. Many fans claimed that Kartik Aaryan lived up to the mark and did justice to the role, and he acted pretty amazingly and somewhat similar to Akshay Kumar. On numerous occasions, Kartik Aaryan's style has been compared to that of Akshay Kumar
Upon hearing the comparisons at the time of Bhool Bhulaiya 2's release, Kartik Aaryan stated,
I never wanted to draw this comparison. People shouldn't do it. I loved Akshay in Bhool Bhulaiyaa. I have grown up watching him; we all have grown up watching him. It's better if you don't compare us."
However, it is indisputable that Kartik Aaryan perfectly complements the Akshay Kumar movie sequels and fulfills every role given to him.
Lastly, although the Shahzada poster vs Bachchan Pandey poster is similar, the two films are different in terms of everything, be it the story, plot, or genre. So, the film will be worth watching! Book your tickets and have a popcorn party ahead.
Related Read