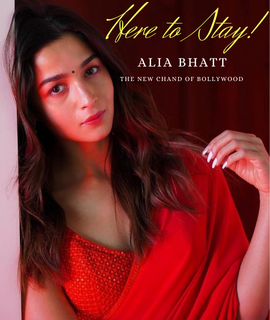 Alia Bhatt: The new "CHAND" of Bollywood (Is Here to Stay)!
Profession
Actress (2012-Present)
Parents
Mahesh Bhatt (father) Soni Razdan (mother)
She has been under the scanner for her answers and from being trolled mercilessly to becoming Bollywood's sweetheart. She has been known for her relationship and for being the no.1 choice for every Bollywood Director.
Is she talented enough or is she just another star kid? Well… Alia has answered with her powerful performances; she is a star kid and she is here to shine brighter! Alia Bhatt has always been applauded for her powerful performances, be it Highway, Raazi, Udta Punjab, or even Gully Boy.
Can't wake up and say sorry for being born into this family" has always been her reply when painted as Star Kid or the product of Nepotism.
The newfound muse of Sanjay Leela Bhansali has demonstrated her versatility as an actor time and time again, whether or not it's in her elegant person in student of the year or her rugged desi appearance in Udta Punjab. She has frequently claimed that choosing a strong character in movies makes her outshine the other actresses.
It won't be wrong to say she has given a face to the women-centric film and redefined the phrase; women-led film can earn and very well enter into the 100cr club. Bhatt's Gangubai Kathiawadi is a true example of how hard a woman has to fight to break the shackles of patriarchy and misogynistic dominance, Alia represented the voice of 4000 sex workers who have been a victim in one sense or another. Alia, who acts as the catalyst in her rise to power has given her stellar performance and showed Gangubai's determination and adamance. Alis even make it a point to show that his woman character can meet the eyes of the biggest mafias and still can show compassion.
So, it is safe to say, ALIA and not Kangna is the biggest mafia of Bollywood? 
Today as she adds another number to her age; we say, "ALIA CHAND THI AUR CHAND HI RHEGI".
Related Read:
TRENDING: