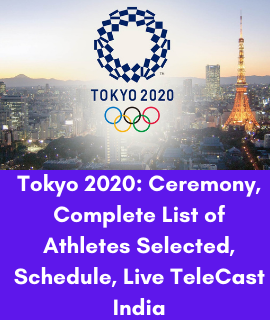 Tokyo 2020 Olympics 2021 List – Ceremony, Complete List of Athletes Selected, Schedule, Live TeleCast India
NOC
Indian Olympic Committee
Competitors
124 in 18 Sports
Flag Bearer
Mary Kom (Opening), Manpreet Singh (Opening), Bajrang Punia (Closing)
Tokyo 2020 Olympics 2021 List : The Insights 
Where is the Olympics 2021 held? 
Olympics 2021 is being held in Tokyo, which will start from 8 pm local time i.e. 4:30 pm IST.
Why is it called Tokyo 2020 instead of being happening in 2021? 
Coronavirus pandemic last year forced Tokyo to delay the Summer Olympics and Paralympics to July 2021. However, the organizers chose to keep its name as 'Tokyo 2020' only. They said they wanted the event to be seen as the "Light At The End of the Tunnel."
Even the IOC has ensured that logos, t-shirts, packaging, merchandise, and broadcast chyrons remain the same, which is a cost-efficient move for partners and sponsors.
How to watch the LIVE TELECAST of Tokyo Olympics 2021 in India? 
Live telecast of the Tokyo Olympics in India can be seen on Sony TEN 1 HD/SD, Sony TEN 2 HD/SD. Tokyo 2020 Summer Olympics will be seen in English commentary on Sony TEN 2 HD/SD while the one with Hindi Commentary will be seen on Sony TEN 3 HD/SD.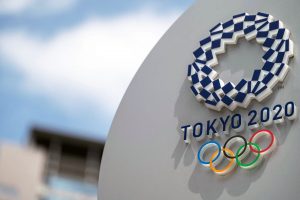 What will be the starting time for the Tokyo Olympics Opening Ceremony? 
The opening ceremony for Tokyo 2020 will begin at 8 pm local time or 4:30 pm IST.
What will be the starting time of sporting events in the Tokyo Olympics 2021? 
The sporting events during Olympics 2021 can start as soon as 9 am Japan time or 5:30 am IST.
Medal Design of Tokyo Olympics 
Tokyo 2020 is designed for a competition to be held for medals which attracted more than 400 entries this time. The medals for Tokyo 2020 are made up of recycled electronics. There are a total of 5000 medals made of gold, silver, bronze, made up of recycled electronics, which are all sourced from Japan.
What do the medals of the Tokyo 2020 Olympics symbolize? 
The Tokyo 2020 Olympics medal symbolizes – The energy and diversity of the athletes. It even signifies the Japanese culture. The medal is structured with a ribbon that represents the modernized ichimatsu moyo (checkered patterns) and kasane no irome (kimono layering techniques. The Tokyo 2020 colors are also added to the ribbon using more of the CO2 -friendly chemically-recycled polyester fibers. The front of the medal depicts Nike, the Greek goddess of victory and the back features the Tokyo 2020 logo
Tokyo 2020 Full Schedule 
Sport
Discipline 
Dates

Aquatics

Swimming

July 24 (Saturday) – August 1 (Sunday)

Diving

July 25 (Sunday) – July 28 (Wednesday), July 30 (Friday) – August 7 (Saturday)

Artistic Swimming

August 2 (Monday) – August 4 (Wednesday), August 6 (Friday) – August 7 (Saturday)

Water Polo

July 24 (Saturday) – August 8 (Sunday)

Marathon Swimming

August 4 (Wednesday) – August 5 (Thursday)

Archery

.

July 23 (Friday) – Julyt 31 (Saturday)

Athletics

Track & Field / Marathon

July 30 (Friday) – August 8 (Sunday)

Race Walk

July 30 (Friday), August 6 (Friday) – August 7 (Saturday)

Badminton

.

July 24 (Saturday) – August 2 (Monday)

Baseball/Softball

Baseball

July 28 (Wednesday) – August 5 (Thursday), August 7 (Saturday)

Softball

July 21 (Wednesday) – July 22 (Tuesday), July 24 (Saturday) – July 27 (Tuesday)

Basketball

3×3 Basketball

July 24 (Saturday) – July 28 (Wednesday)

Basketball

July 25 (Sunday) – August 8 (Sunday)

Boxing 

.

July 24 (Saturday) – August 1 (Sunday), August 3 (Tuesday) – August 8 (Sunday)

Canoe

Slalom

July 25 (Sunday) – July 30 (Friday)

Sprint

August 2 (Monday) – August 7 (Saturday)

Cycling

BMX Freestyle

July 31 (Saturday) – August 1 (Sunday)

BMX Racing

July 29 (Thursday) – July 30 (Friday)

Mountain Bike

July 26 (Monday) – July 29 (Tuesday)

Road

July 26 (Saturday) – July 25 (Sunday), July 28 (Wednesday)

Track

August 2 (Monday) – August 8 (Sunday)

Equestrian

Dressage

July 24 (Saturday) – July 25 (Sunday), July 27 (Tuesday) – July 28 (Wednesday)

Eventing

July 30 (Friday) – August 2 (Monday)

Jumping

August 3 (Tuesday) August 6 (Wednesday), August 7 (Friday) – August 7 (Saturday)

Fencing

.

July 24 (Saturday) – August 1 (Sunday)

Football

.

July 21 (Wednesday) – July 22 (Thursday), July 24 (Saturday) – July 25 (Sunday), July 27 (Tuesday) – July 28 (Wednesday), July 30 (Friday) – July 31 (Saturday), August 2 (Monday) – August 3 (Tuesday), August 5 (Thursday) – August 7 (Saturday)

Golf

July 29 (Thursday) – August 1 (Sunday), August 4 (Wednesday) – August 7 (Saturday)

Gymnastics

Artistic

July 24 (Saturday) – July 29 (Thursday), August 1 (Sunday) – August 3 (Tuesday)

Rhythmic

August 6 (Friday) – August 8 (Sunday)

Trampoline

July 30 (Friday) – July 31 (Saturday)

Handball

.

July 24 (Saturday) – August 8 (Sunday)

Hockey

.

July 24 (Saturday) – August 6 (Friday)

Judo

.

July 24 (Saturday) – July 31 (Saturday)

Karate

Kata, Kumite

August 5 (Thursday)- August 7 (Saturday)

Modern Pentathlon

.

August 5 (Thursday) – August 7 (Saturday)

Rowing

.

July 23 (Friday) – July 30 (Friday)

Rugby

.

July 26 (Monday) – July 31 (Saturday)

Sailing

.

July 25 (Sunday) – August 4 (Wednesday)

Shooting

Rifle and Pistol

July 24 (Saturday) – July 25 (Sunday), July 27 (Tuesday), July 29 (Thursday) – August 2 (Monday)

Shotgun

July 25 (Sunday) – July 26 (Monday), July 28 (Wednesday) – July 29 (Thursday), July 31 (Saturday)

Skateboarding

Park

August 4 (Wednesday) – August 5 (Thursday)

Street

July 25 (Sunday) – July 26 (Monday)

Sport Climbing

.

August 3 (Tuesday) – August 6 (Friday)

Surfing

.

July 25 (Sunday) – August 1 (Sunday)

Table Tennis

.

July 24 (Saturday) – July 30 (Friday), August 1 (Sunday) – August 6 (Friday)

Taekwondo

.

July 24 (Saturday) – July 27 (Tuesday)

Tennis

.

July 24 (Saturday) – August 1 (Sunday)

Triathlon

.

July 26 (Monday) – July 27 (Tuesday), July 31 (Saturday)

Volleyball

Beach Volleyball

July 24 (Saturday) – August 7 (Saturday)

Volleyball

July 24 (Saturday) – August 8 (Sunday)
Complete List of Athletes Selected for Tokyo 2020 Olympics
Archery
Tarundeep Rai, Men's Recurve

Atanu Das, Men's Recurve

Pravin Jadhav, Men's Recurve

Deepika Kumari, Women's Recurve
Athletics
KT Irfan, Men's 20km race walking

Sandeep Kumar, Men's 20km race walking

Rahul Rohilla, Men's 20km race walking

Gurpreet Singh, Men's 50km race walking

Bhawna Jat, Women's 20km race walking

Priyanka Goswami, Women's 20km race walking

Avinash Sable, Men's 3000m steeplechase

Murali Sreeshankar, Men's long jump

MP Jabir, Men's 400m hurdles

Neeraj Chopra, Men's javelin throw

Shivpal Singh, Men's javelin throw

Annu Rani, Women's javelin throw

Tajinderpal Singh Toor, Men's shot put

Dutee Chand, Women's 100m and 200m

Kamalpreet Kaur, Women's discus throw

Seema Punia, Women's discus throw

4×400 Mixed Relay

Men's 4x400m Relay
Badminton
PV Sindhu, Women's singles

B Sai Praneeth, Men's singles

Satwiksairaj Rankireddy and Chirag Shetty, Men's doubles
Boxing
Vikas Krishan (Men's, 69kg)

Lovlina Borgohain (Women's, 69kg)

Ashish Kumar (Men's, 75kg)

Pooja Rani (Women's, 75kg)

Satish Kumar (Men's, 91kg)

Mary Kom (Women's, 51kg)

Amit Panghal (Men's, 52kg)

Manish Kaushik (Men's, 63kg)

Simranjit Kaur (Women's, 60kg)
Equestrian
Fouaad Mirza – men's individual eventing
Fencing
Bhavani Devi – women's sabre
Golf
Anirban Lahiri

Udayan Mane

Aditi Ashok
Gymnastics
Pranati Nayak – women's artistic
Hockey
Men's National Team (Led by Manpreet Singh)

Women's National Team (Led by Rani Rampal)
Judo
Sushila Devi Likmabam
Rowing
Arjun Lal Jat and Arvind Singh – men's lightweight double sculls
Sailing
Nethra Kumanan, Laser Radial

Vishnu Saravanan, Laser Standard

KC Ganapathy and Varun Thakkar, 49er
Shooting
Anjum Moudgil, 10m Women's Air Rifle

Apurvi Chandela, 10m Women's Air Rifle

Divyansh Singh Panwar, 10m Men's Air Rifle

Deepak Kumar, 10m Men's Air Rifle

Tejaswini Sawant, 50m Women's Rifle 3 Position

Sanjeev Rajput, 50m Men's Rifle 3 Position

Aishwarya Pratap Singh Tomar, 50m Men's Rifle 3 Position

Manu Bhaker, 10m Women's Air Pistol

Yashaswini Singh Deswal, 10m Women's Air Pistol

Saurabh Chaudhary, 10m Men's Air Pistol

Abhishek Verma, 10m Men's Air Pistol

Rahi Sarnobat, 25m Women's Pistol

Chinki Yadav, 25m Women's Pistol (replaced by Elavenil Valarivan)

Angad Veer Singh Bajwa, Men's Skeet

Mairaj Ahmad Khan, Men's Skeet
Swimming
Sajan Prakash, men's 200m butterfly

Srihari Nataraj, men's 100m backstroke

Maana Patel, women's 100m backstroke
Table Tennis
Sharath Kamal

Sathiyan Gnanasekaran

Sutirtha Mukherjee

Manika Batra
Tennis
Sania Mirza and Ankita Raina, Women's Doubles
Weightlifting
Saikhom Mirabai Chanu – women's 48kg
Wrestling
Seema Bisla, Women's Freestyle, 50kg

Vinesh Phogat, Women's Freestyle 53kg

Anshu Malik, Women's Freestyle 57kg

Sonam Malik, Women's Freestyle 62kg

Ravi Kumar Dahiya, Men's Freestyle 57kg

Bajrang Punia, Men's Freestyle 65kg

Deepak Punia, Men's Freestyle 86 kg