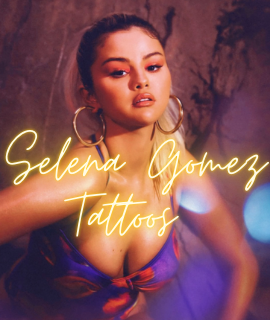 Selena Gomez Tattoos 2021 (With Meaning)- What You Should Know!
Full Name
Selena Marie Gomez
Hometown
Grand Prairie, Texas, U.S.
Genres
Pop, Dance-Pop, Electropop
Occupation
American singer and actress
Selena Gomez Tattoos 2021: 'The Heart Wants What It Wants" singer, Selena Gomez believes probably thinks of this song while getting a new tattoo every time. Selena has a total of 15 tattoos, each one of which is meaningful and depicting her faith, her friendship, and her love for music.
We Have Rounded Up Selena Gomez Tattoos 2021 (With Their Meaning)
1. CROSS, 2021
Gomez divulged this elegant cross on her collarbone, inked Bang Bang in April 2021 showcasing her belief in God. I'm very, very spiritual," the music sensation told Vogue initially the same year. "I believe in God, but I'm not religious. I've been a Christian for a while now. I don't talk about it too much — I want to, but it's gotten a bad rep. I just want to make it clear that I love being able to have my faith, and believe in what I believe in, and that truly is what gets me through."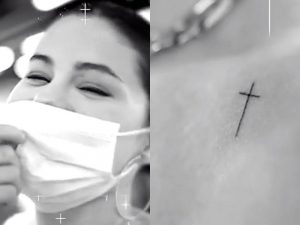 2. RARE, 2020
Depicting her love for her third solo studio album, Sel got a cursive tattoo 'Rare' on her neck, around the ear. "It feels like you don't care / Why don't you recognize I'm so rare?" (lyrics from her single ) Well, the word is dear to Gomez.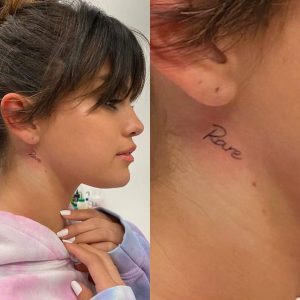 3. Date of Her KIDNEY TRANSPLANT
The sequence of numbers on the back of her right arm celebrates the date she underwent a kidney transplant and said that her friend who is also her donor, Francia Raisa has a matching tattoo. Sel boasted the tattoo for the first time while dancing in the music video for her song "Rare." in 2019.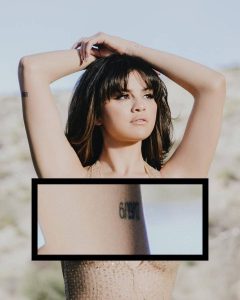 4. Prayers Hand On Her Left Thigh, 2019.
Got A huge tattoo on her upper-left thigh: two hands joined in prayer, with a rosary draped around them by her favorite Bang Bang. Again this tattoo depicts her belief in prayers and gratitude.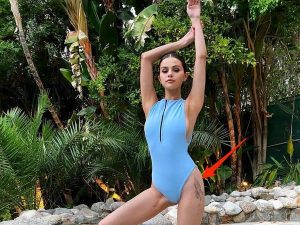 5. Matching Arrows With JULIA MICHAELS, 2019.
In 2019, Both the women who are friends and collaborators got tiny, identical arrows inked on the bases of their thumbs, which point towards each other when they hold hands. "It's tatted.. my arrow points to you forever," Sel inscribed on her Instagram story.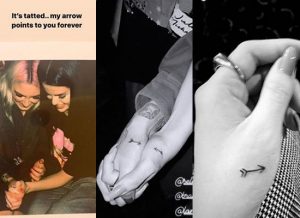 6.  '4' Tattoo for Four Friends, 2019.
Gomez and her three intimate pals — Lopez, Ashley Cook, and Raquelle Stevens,  have identical "4" tattoos on distinct parts of their bodies to celebrate their friendship. Sel has it on her right forearm, just under the furrow of her elbow.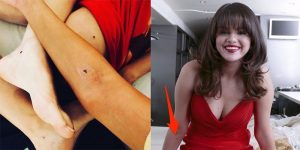 7. " 1″ on The Rib Cage, 2018.
Selena has a "1" on the right side of her rib cage as a hymn to her friendship with Courtney Lopez, whom she calls her "actual #1." She disclosed their little matching tattoos in a 2018 birthday post for her chum.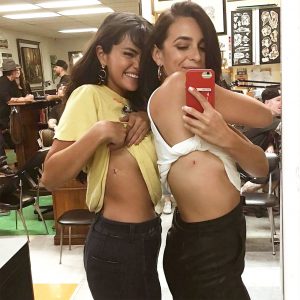 Sexiest Dresses Worn By Selena Gomez YOU Won't Regret Wearing
8. Matching Semicolons
Gomez produced the Netflix series, '13 Reasons Why'. She got a semicolon tattoo along with stars Alisha Boe (who played Hannah's ex-BFF Jessica) and Tommy Dorfman (who played poet Ryan Shaver) in the show. Their identical semicolons represent mental health awareness and suicide prevention.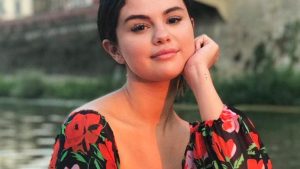 9. "SUNSHINE" on the Right Foot 
Selena got this tattoo around 2016 on her right foot. Although she never shared the meaning, once she referred to her grandma as "my sunshine" on Twitter.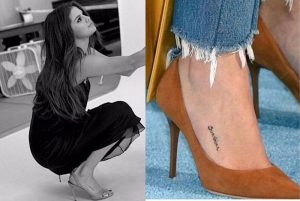 10. OM Symbol on Her Left Hip
Gomez has a tattoo on her left hip, which is an Om symbol (ॐ) – A sacred symbol in Hinduism, Buddhism and other Indian religions that represents the sound of the Universe. It was first seen on Selena in 2015 while she was on the beach and looks much like it's written 'x31.'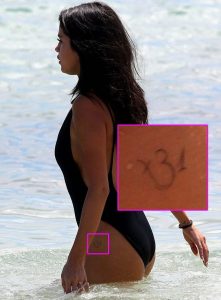 11. " LOVE YOURSELF" in Arabic 
If you know about Selena Gomez, you must know she was inked by Bang Bang again in 2014. She has "Love Yourself First" written in Arabic on the upper-right side of her back.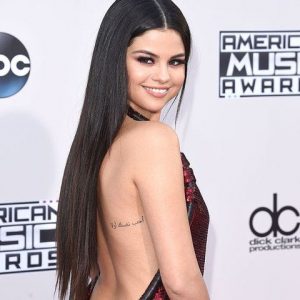 12. A Lowercase "g" 
Sel got a lowercase "g" on her neck. The "g" stands for Gracie, her half-sister who was born in 2013.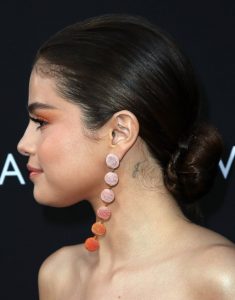 13. "God Who Strengthens Me" Tattoo 
In 2012,  she showed her belief in God with this tattoo. "God who strengthens me" is an altered excerpt from her favorite Bible passage, Philippians 4:13.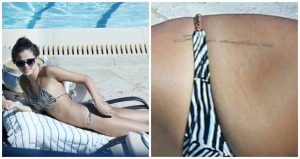 14. Number 76 in Roman Numerals
In 2012, Selna got her second tattoo, "LXXVI," from the famous NYC-based artist Keith Scott "Bang Bang" McCurdy. It's probably an homage to her mother, Mandy Teefey, who was born in 1976. She was just 16 years old when she gave birth to Gomez.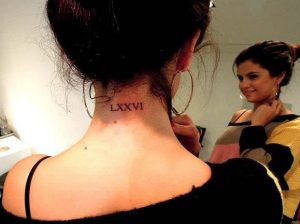 15. A Small Music Note
In 2012, Selena got her first tattoo which is a small music note on the side of her right-hand wrist. Music has influenced her life and it is her tribute to Music and her love for singing. Well, that is a whopping amount of tattoos. And what she is going to get inked next.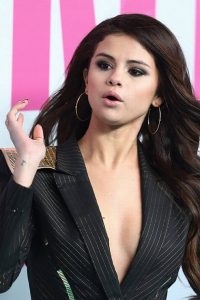 Related Read:
Related Read:
12 Unique Facts & Habits of Selena Gomez… Read NOW!